Fahrenheit Marketing offers new service to help small businesses with their public relations and search engine optimization needs.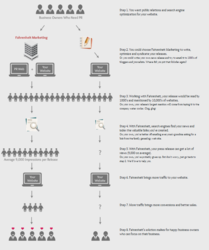 Austin, TX, July 24, 2012 —
Fahrenheit Marketing has started offering a new service, press releases for SEO. Fahrenheit will write and syndicate news releases for clients who don't want to subscribe to Fahrenheit Marketing's full-service model.
The idea for this service came when Fahrenheit started seeing big successes from SEO press releases for the clients on its roster.
By using PRWeb's syndication system, Fahrenheit was building high-quality backlinks for clients at a record pace. The firm realized that other companies could use this service to complement their current search engine optimization efforts, and the service was born.
People who would like to use the service don't have to sign up for any contracts or buy other, unwanted services.
"This idea came to us while we were witnessing the major successes our public relations strategy had toward SEO for our clients," Fahrenheit Marketing CEO Ricardo Casas said. "With this service, people can see better search engine optimization results in less time. It was too good not to share."
Fahrenheit Marketing has long thrived on growing its clients' online presences through search engine optimization and conversion management. The firm started offering these news release distribution services as a logical next step to help meet clients' needs, Casas said.
News releases raise the profile of an organization, allowing clients to read about a company's successes online, and improve rankings. And it can do these things in a fraction of the time more traditional SEO tactics can, Casas said.
Fahrenheit will offer two levels of service for clients: a distribution-only service, where clients write and search engine optimize the news releases themselves, and a full-service, where clients provide information to the firm, which will then write, optimize for search and distribute the news. Clients who wish to purchase multiple news releases can receive the service at a discounted rate through Fahrenheit's volume discount program.
The service starts at $299 for distribution and $500 for full-service writing, optimizing and syndicating of a company's news releases.
About Fahrenheit Marketing
Fahrenheit Marketing is an Austin web design firm. Since 2008, it has provided a full range of marketing capabilities, from search engine optimization to call tracking and conversion management for a variety of clients.
###