For over a decade, our team here at Fahrenheit Marketing has built a strong knowledge base of everything related to web design and conversion optimization. We thrive on tackling challenges, serving clients, and leveraging our know-how to shape the landscape of digital marketing.
Our commitment to excellent service, strategies, and solutions has made the Fahrenheit Marketing team a force to be reckoned with. B2B research and reviews firm Clutch recently released its list of the top web designers in Austin, awarding our agency with the number 6 position in a ranking of more than 250 companies. This prestige comes on the heels of Clutch's evaluations of our operations, market presence, logistics, and experience, so performing so strongly speaks volumes about the quality of the Fahrenheit Marketing team.
We also enjoy participating in Clutch's research because of their tried-and-true reviews process. Clutch analysts actually speak with our clients in phone interviews that are designed to get an accurate and thorough understanding of our business partnerships. We always knew our clients were awesome, but to hear their kind words about the Fahrenheit Marketing team has exceeded our expectations. Take a look at some quotes from our most recent reviews, published in full on our Clutch profile: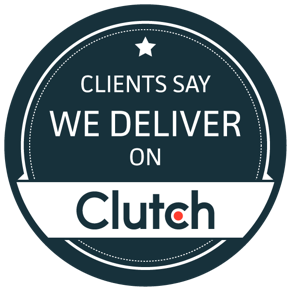 "We greatly value when our vendors care about results, which is exactly the case with Fahrenheit Marketing." – Senior Vice President, Syberry Corporation
"They created visibility where there was none through various promotions and initiatives." – Director of Operations and Development, Dermatology Clinic
"The design is amazing and the development is also amazing. I would say cutting edge." – Marketing Director, Wellness Company
Sister companies to Clutch, The Manifest and Visual Objects have also featured our work.
As a business news platform that shares information about different industries and technologies, The Manifest included Fahrenheit in its collection of the top SEO agencies in Austin. Visual Objects, a curation site that shares the portfolios of different digital and creative firms, now highlights our work in a showcase of digital marketing companies.
We're excited to continue collaborating and creating with clients, and we very much appreciate these features of our work. In Austin and beyond, Fahrenheit Marketing knows how to get things done, and we encourage you to reach out to us if you want to know more or speak to a member of our team!