Fahrenheit Marketing provides an extensive guide on what you need to know about social media influencers. This guide covers who they are, the different types of influencers, why they are loved by audiences, and how they work with brands.
The demands for celebrity endorsements and branding reached a sharp decline since the shift towards social media marketing. Consumers don't want idolized, multi-millionaire figures flashing their cosmetic smile and telling them what to buy any more. They desire authentic recommendations and relationships, which can be found online through social media influencers.
WHAT A SOCIAL MEDIA INFLUENCER IS
Social media influencers are popular figures who hold the power to "influence" his or her audience into buying a product through the usage of their powerful online presence. Through social media i.e. Facebook, Twitter, Instagram, Youtube, or Pinterest, they can market themselves and selected brands to their organically collected audience. These figures come in all shapes and sizes, and only post content that fits within their niche, be it food, beauty, fitness, travel, and plenty more for their dedicated followers.
The picture below provides a clearer explanation of what these influencers may post, and how a brand can be a part of their platform.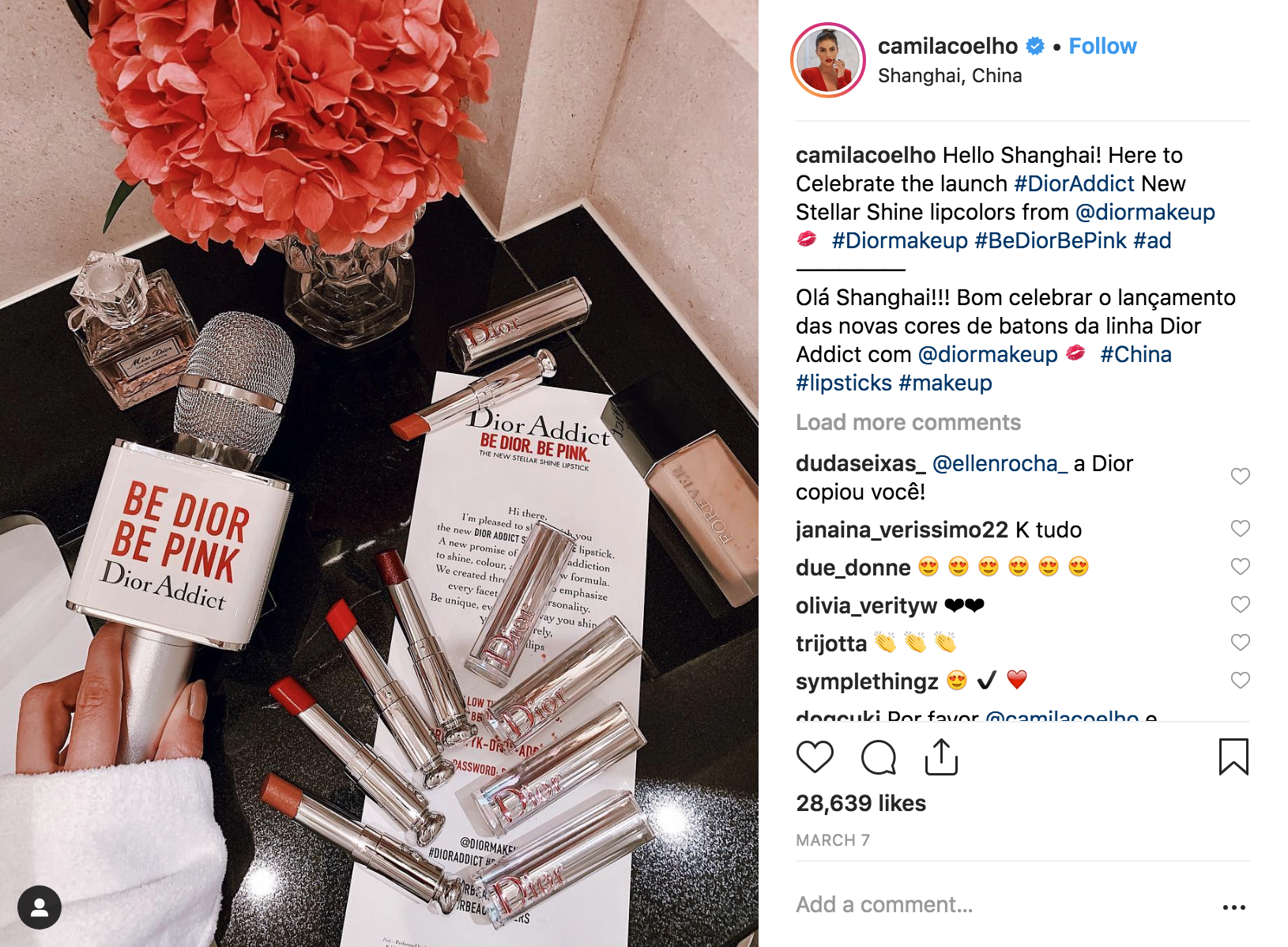 The picture shown is an Instagram ad created by Camila Coelho, an international mega-social media star with over 7.8 million followers on Instagram. She's known for her expertise in beauty and fashion, and her fandom has grown exponentially since her beginnings in 2010. Camila partners with high-quality brands such as Dior to promote their beauty products and increase brand awareness.
But Camila only represents one type of influencer. There are many other types which can better fit a brand's needs.
TYPES OF SOCIAL MEDIA INFLUENCERS
MATTR, an expert in social media and influencer marketing, provides a helpful description of the types of social media influencers in which we summarized for this article:
LARGE | Macro Influencer
A Macro Influencer is a professional social media figure that has 500,000 or more followers. Their platform is great for companies with goals to increase brand awareness, however, their large following inhibits genuine engagement between fans and the public figure. Additionally, due to their expansive platform, the audience is diverse and is not concentrated on a target demographic.
SMALL | Micro Influencer
A Micro-Influencer has a substantially lower following than Macro, 2k-25k followers, but provides effective results for brand engagement. As a matter of fact, micro-influencers have triple the percentage of engagement (6 to 10 percent) compared to macro influencers (0 to 2.5 percent).
MEDIUM | Mid-Level Influencer
A Mid-Level influencer is the perfect concoction of Micro and Macro. They have between 25k to 250k influencers, therefore their digital reach is large enough to achieve brand awareness but small enough to encourage meaningful interaction on their platform. Mid-level influencers have a sharply angled niche, which is beneficial for brands who want to reach a specific audience.
WHY AUDIENCES LOVE INFLUENCERS
Nowadays, consumers feel disconnected towards brands, approaching any promotion with skepticism and distrust. In a 2018 study done by Edelman, a leading international public relations firm, they found that only 48% of the population trusts businesses. This is a 10% drop since the previous year at 58%. Modern consumers don't want to be sold to by a distant brand, they want to have a meaningful connection.
This is where social media stars come in. They are the personal, relatable middlemen who hold the key to their followers' love and attention. Additionally, influencers are concerned about keeping this significant connection, therefore whatever product they promote, it is a product they believe connects to the social values of their audience.
Now that we defined influencers and the types, our team created a step-by-step guide in how brands interact with these figures to create a partnership.
HOW IT WORKS
STEP 1 | The Research
Brands will hire a third-party communications agency to perform in-depth research and discover the ideal influential candidate. The third-party will investigate the social media figure's credentials, including:
Audience Engagement: Is the audience participating with his or her content through comments, posts, or shares? Is he or she responding and encouraging discussion and activity?

Following: Does he or she have an organic following, or is the influencer applying fake accounts or likes to portray a larger following or engagement?

Target Audience: Does the influencer's target audience have similarities to the brand's target audience? Will their goals be met if the influencer promotes their product?
After they investigate and conclude on an ideal candidate, they will move onto Step 2:
STEP 2 | The Reach Out
The third-party communications agency will contact the desired influencer through email or phone call. They will vocalize the brand's interest in the digital influencer and request a partnership that can either involve one post or a year-long contract. Depending on the influential figure, he or she may be working independently and will respond themselves. If not, they will have a talent agency give a response.
STEP 3 | The Contract
If the social media figure agrees on a partnership, then the next step is composing a contract for both parties to sign. Information in the contract may include how much the brand will pay the digital star, what regulations are required for each post, and what will be expected of the social media figure in regards to posting and engagement.
STEP 4 | The Content
The most nerve-wracking yet significant portion of this process for a brand is allowing the digital figure to independently create the brand content. The brand does provide a list of requirements of what needs to be mentioned and what cannot be mentioned, but the authenticity of the ad comes from the influential figure's ability in deciphering how they will produce this ad.
STEP 5 | The Thumbs Up or Down
A crucial part of the process is getting the approval of the finished product by the agency. If published without the company's approval, brand catastrophes like Shay Mitchell's cringey Biore promotion occur and ruins the intimate connection between the social media figure and his or her fans.
STEP 6 | The Publishing
This is it! The content is approved and ready to go, and now it's time for the influencer to post. After this fated moment, it is up to the third-party agency to monitor impressions, engagement, and reactions from the audience.
So, next time when you're thinking of promoting a product, why not take a look at influencer marketing? Your company can effectively pass the difficult barrier of skepticism to reach your target demographic's hearts and minds.



Fahrenheit is proudly featured as a leading Top Austin PPC Agencies by design Rush.

_____
When it comes to digital marketing and web design and development, Fahrenheit Marketing is your one-stop-shop. We know what it takes to make your brand succeed, and we would love to share our expertise with you to expand your digital presence. Say hello to our team and let us assess your brand's needs, and we'll take care of the rest.