An innovative application, TrackNotion brings data analytics, automation, and artificial intelligence to traditional telecommunications, drastically enhancing the ability of customer relations and marketing teams.
Quaint legal offices, bustling restaurant franchises, and call centers alike leverage TrackNotion's power to spur substantial growth through insights that shape processes. As a certified TrackNotion partner agency, Fahrenheit can help you wield the marketing powerhouse that is TrackNotion.
HOW DOES IT WORK?
TrackNotion is a telecom solution that elevates your business' marketing efforts, data analytics, and customer communications. Compiling collective data over time, TrackNotion empowers you to leverage valuable insights gained and transform them into customized solutions. In this age of buying and selling data, TrackNotion cares about (and adheres to) consumer privacy, never pulling invasive demographic/personal information or selling it. By leveraging highly-relevant collective data, TrackNotion eliminates the need for unethical data collection.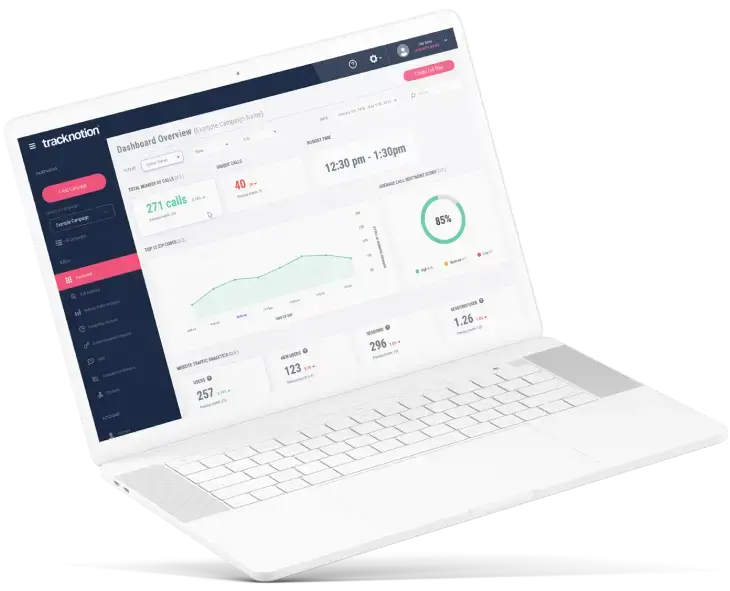 FEATURES & BENEFITS
Call recording/transcription
Reveals the source of a call
Scores and Analyzes sentiment
Automates SMS capabilities
Integrates Google Analytics/Semrush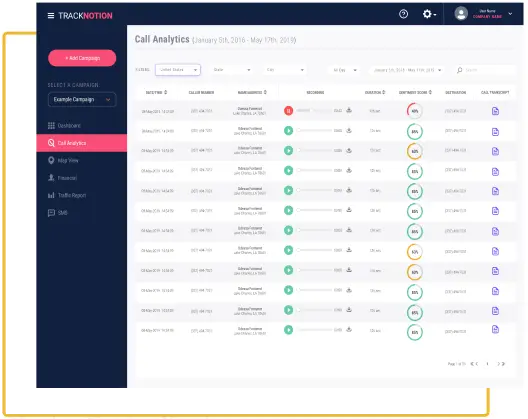 Keep your Records in Order
Each time a number is called, its metrics are recorded in your client catalog along with its recording and transcription. Each call you have ever received through TrackNotion will be recorded, transcribed, and saved for future reference and comparison between operators, call centers, and scripts you may experiment with.
Attribute Call Sources, Easily
TrackNotion assigns unique phone numbers to different marketing channels. If you have a TrackNotion number attached to billboards, for example, and that number is called, you can be certain your caller found it on that billboard, since that number is not published or used elsewhere. In other words, you know which channels are driving leads.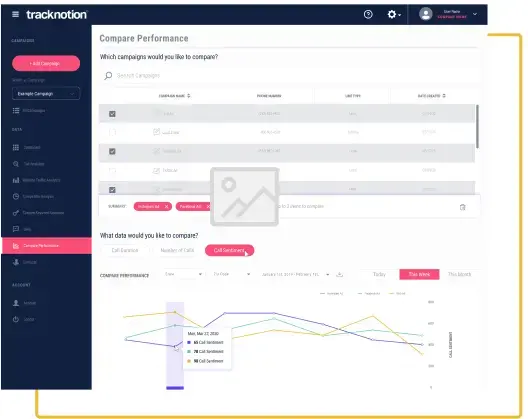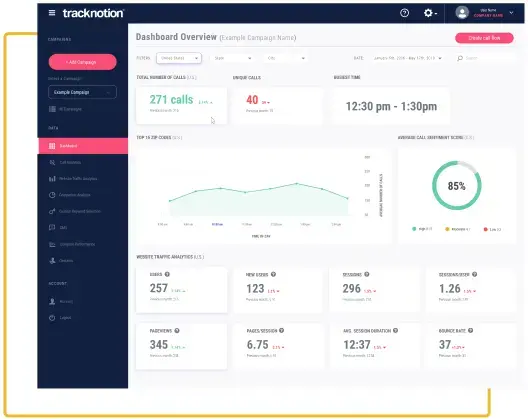 Rate Customer Calls
TrackNotion's Call Sentiment Analysis tool leverages the power of artificial intelligence and machine learning to decipher voice intonation and analyze customer sentiment/attitudes throughout any given call. Fahrenheit knows you want customers to be delighted at every step of the buyer's journey.
TrackNotion records every single call and transcribes them into text for your records and easy searching. Each phone call is given a quality score. Once your threshold-quality is set and a call falls below that range, you will be immediately notified through SMS. The SMS will include a link to listen to the call, the call transcription, and the sentiment score so you can offer resolution before a caller potentially posts negative reviews or a sale or relationship is lost. This feature essentially gives you the opportunity to remedy a bad situation before it becomes worse. The manager or representative can view the reports and reach out to address a client's perceived negative encounter with customer service or a product before it goes public.
Utilize Keyword Tracking
A user is able to assign relevant keywords to each campaign inside TrackNotion – for example, a medical practice could assign the keywords 'scheduling', 'appointment', 'cancellation', 'costs', to which they are able to assign a score-value, from zero to one hundred, for each keyword that is spoken during the call. These keywords can be made to influence your sentiment score . Likewise, assigned negative keywords, if triggered, will automatically alert you to an unhappy customer or disgruntled user. Easily and quickly mediate conflict or redoube efforts for users who have already shown intent.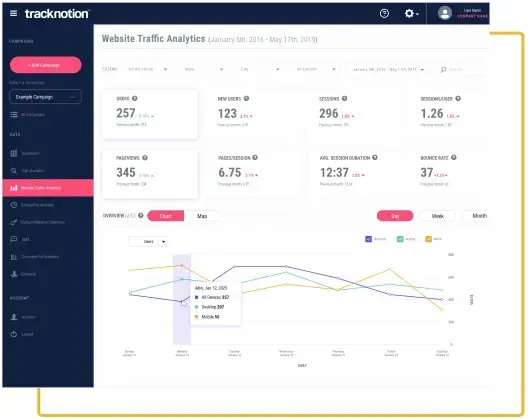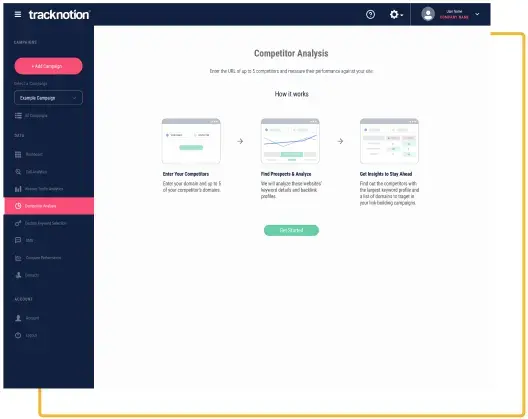 Communicate with Prospects through SMS
TrackNotion's SMS capabilities are a marketing powerhouse. Used in tandem with their Keyword Tracking and Customer Sentiment Analysis tools, users can automatically send promotional, retargeting, and rectifying communications to customers based on their situation, .
SMS capabilities are a great way to nurture customer relationships. After establishing the rules, you can automatically have an SMS sent to a customer who has used a predetermined negative keyword or phrase or one who has had a bad experience, determined by your quality-threshold score. Similarly, SMS may be used to encourage purchases, offer coupons, create value, and nurture community. Now you can easily communicate with your customers at every stage of the purchase journey.
Integrate with Google Analytics/Semrush
TrackNotion connects to your website's Google Analytics to compile a comprehensive traffic report. Simply input your UA code into TrackNotion and watch it link all of your Google Analytics information. With this integration, you can track your website traffic, conversions, phone calls, SMS metrics, and the quality of customer service based on sentiment score and transcription.
TrackNotion's integration with Semrush provides users with critical, digital data to optimize their search engine results through backlinks, keywords, and competitive intel. You'd be surprised how much you can boost your ranking when you focus on the right search terms. Simply input your domain name, location, and competitors' domains and start optimizing your strategic decision-making.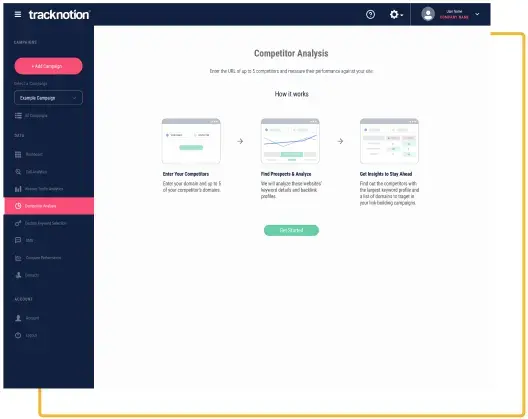 WORK WITH US
If this possibility of using TrackNotion excites you, know you are not alone! Fahrenheit Marketing is a digital agency based out of Austin, Texas with a full suite of marketing, development, and design services. We believe TrackNotion is a unique marketing solution that can help businesses of any size thrive across industries. If you want to take charge of your calls and use them to grow your business, reach out today! As a certified TrackNotion partner agency, we can help you all the way from onboarding to proper utilization.
LET'S WORK TOGETHER
Like what you see?
Send us a message to get in touch!