We Do
UI FOR WEB AND APPS
To show your followers that you are current and applicable, you'll need to keep your site modern and speaking the design language they are expecting through intuitive navigation, obvious transitions between sections, and clear calls to action. The digital marketplace is saturated; it's vital to recognize the importance of curating a flawless customer experience for your brand from start to finish. At Fahrenheit Marketing we offer comprehensive UI design services, providing our clients with the tools needed to outperform their competition and appeal to customers and search algorithms alike.
Work with us
Other Design services we offer
What is UI Design?
UI designers are in charge of bringing the blueprints and experiences that UX designers create to life. They construct these visions through numerous tactics like logically placing site elements, incorporating color theory principles. that appeal to human emotions, and utilizing spacing to create pleasing aesthetics.
UI designers must place adequate emphasis on the individual elements that make up the whole user experience. They construct rudimentary components: the buttons, menus, and layouts, as well as the overall theme in order to present a cohesive and enjoyable user experience. Their challenge is to be both unique and familiar at the same time and always observant for changes in user behavior.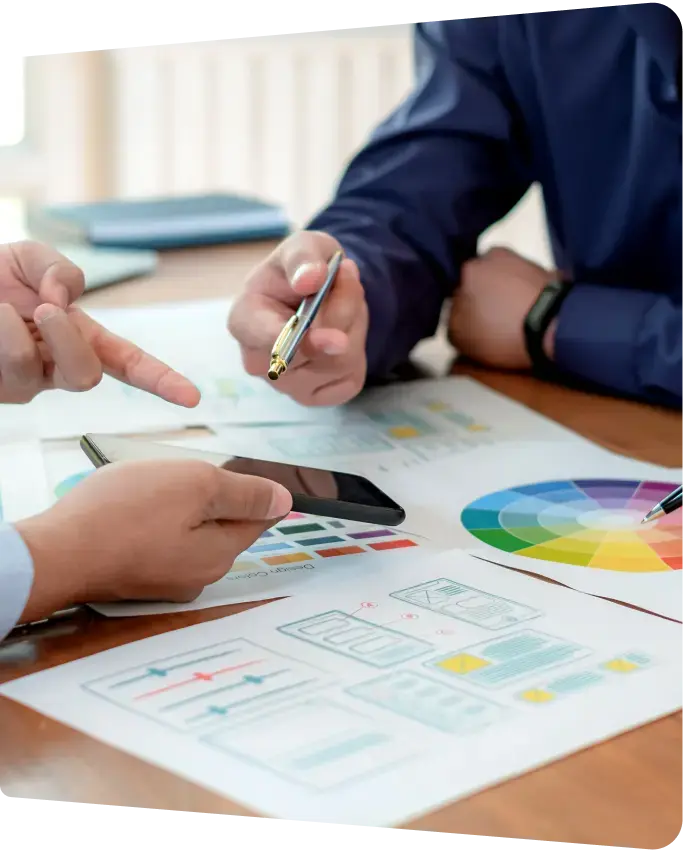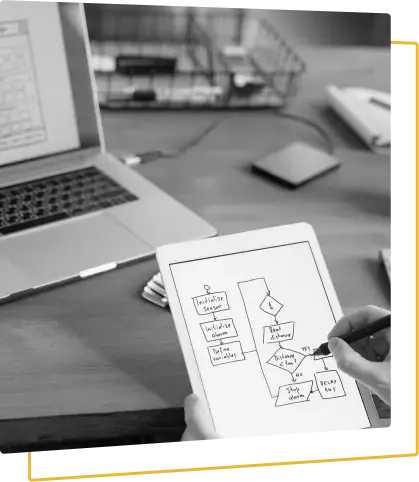 Our Specializations
When you work with Fahrenheit for UI design, you have a diverse array of skill sets at your disposal.  Web & App design projects involve multiple, critical considerations including wireframing, planning, design, website speed, and SEO optimization (not to mention the host of possibilities on the back end that make your business run smoother while fulfilling orders or moving leads through the funnel).  Fahrenheit UI design services seamlessly integrate each of these crucial components to offer you an optimal online platform for business and profit. Some of our UI specializations include:
Simplicity, Visibility, Structure
Accessibility
Our Process
Our UI designers begin by researching and understanding the intended audience's objectives and usage cases for a specific project. By taking the time to understand the user's sensibilities and intentions, designers can create an interface specific to their needs. They then begin transforming wireframes created by UX designers into attractive and easy-to-use digital interfaces. Some of the UI design tactics employed when designing the visual interface include:
Choosing the right color palette, textures, and animations to portray a brand's personality and intended tone
Identifying the ideal font to evoke a cohesive brand voice
Improving functionality by placing marketing funnel elements correctly (buttons/CTAs)
Ensuring website navigation is clear and logical
Making sure site elements match the intentions of users
Our designers then conduct extensive usability testing to ensure your website or application contains no bottlenecks or roadblocks in the path from discovery to conversion. We have a set of stringent established in-house standards to ensure on-time delivery of quality final products aligned with your goals.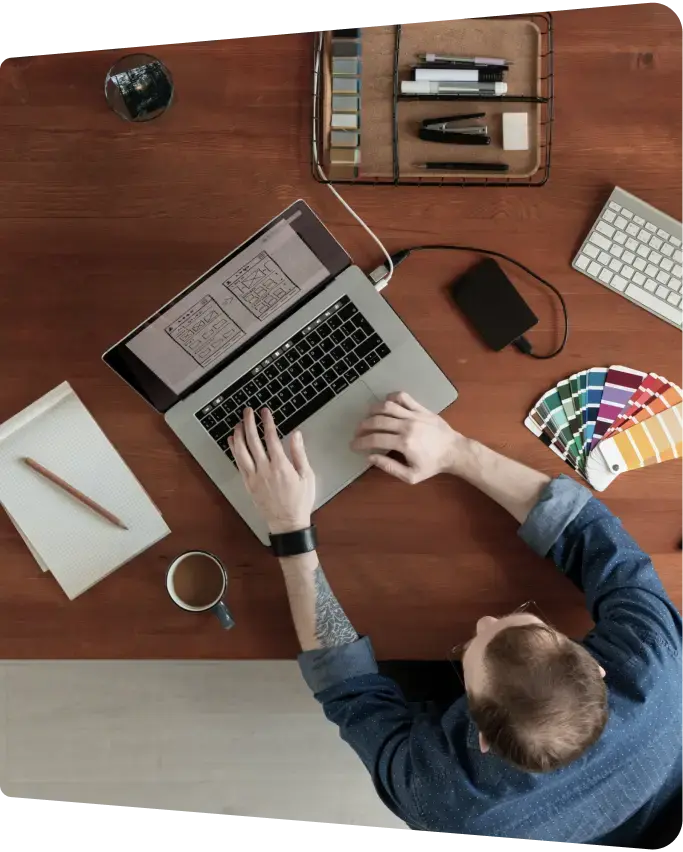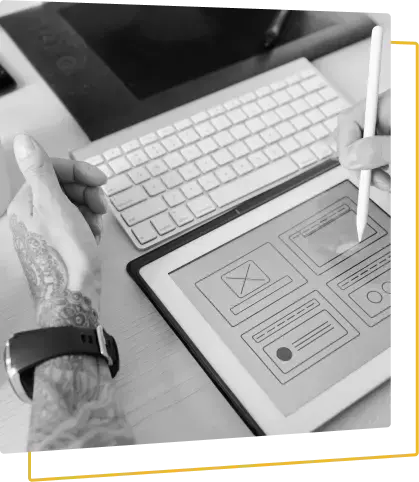 Benefits of Prioritizing UI in Web/App Development
Boosts Search Engine Results - Google prioritizes sites by the quality of the information and content shared and whether it matches a searcher's intent. These Search Quality Rating Guidelines include Loading (LCP), Interactivity (FID), Visual Stability (CSL), and mobile responsiveness, which are all key components of UI Design. By investing in your user interface design principles you will improve both your visibility and ranking on search engine results pages.
Increase Conversions - Incorporating UI design increases the likelihood of a prospect completing the buyer's journey. More time on your website = more conversions, which equals more profit for your business.
Saves Time & Money in the Development Process - taking the time to prioritize UI design in the initial stages of web development saves time in the long run. Extensive testing and quality assurance are vital in ensuring the intended functionalities of your website run smoothly.
Lower Customer Support Costs - If your interface is clear, accessible, and easily navigable customers are less likely to seek support or clarification. This makes everyone's lives easier, reducing customer frustration and support spending.
Improves Customer Experience - Having an easily navigable and attractive user interface encourages users to spend more time exploring your website or application.
Work With Us
We believe that your website should fully emulate your brand, from the homepage to the checkout process. With this philosophy at the forefront of our design, we build websites that are fully committed to user experience. A user-first mindset in design fosters the best outcomes when it comes to converting casual browsers into paying customers. Google values usability when determining your website's ranking and without UI design, you could be leaving money on the table. We keep accessibility in mind from ideation to implementation, auditing our processes to ensure the usability of our websites aligns with our stringent quality standards.

Because we are dedicated to providing businesses with tangible and measurable results, we rely on data as our primary source of truth when making decisions. We won't waste time investing in a design or channel that isn't providing sufficient returns. Our UI designers are sure to boost your business with a beautiful and functional website. Contact our team today to schedule a consultation and grow your returns.
Other eCommerce services we offer