Do you have a long list of recipients but don't want to spend a lifetime inputting orders manually into your BigCommerce store with the potential for miskeying vital customer data? No problem! Gone could be the days of entering endless customer information into multiple fields. Fahrenheit Marketing is excited to introduce our FM Offline Order Importer App, which is currently available through the BigCommerce app store. Look out for our Shopify integration which is coming soon!
The FM Offline Order Importer is an app designed to simplify the process of importing large orders into your BigCommerce store. Let's dig into some of the specific solutions our app can bring to your business.
SUBSCRIBE NOW
HOW DOES IT WORK?
Leverage the FM Offline Order Importer and upload hefty orders through a single spreadsheet directly to your store. Then sit back and watch the app do the work for you. With an intuitive interface and convenient reference templates, you'll be able to create and process large orders at a fraction of the time, all while minimizing human error. During the upload process, the app automatically detects and reports any errors for easy correction. You can also utilize spreadsheet templates to input order information such as shipping addresses and product types and automatically save previous order uploads for quick reference and thorough documentation.
NEED HELP?
Visit our support page
TOP NOTCH FEATURES
The Offline Order Importer is an easy-to-use application that just makes sense. Here are some of the features that make laborious ordering effortless:
Efficient order uploading
Streamlined document creation/management
Comprehensive filtering features
Automatic error detection
PCI compliance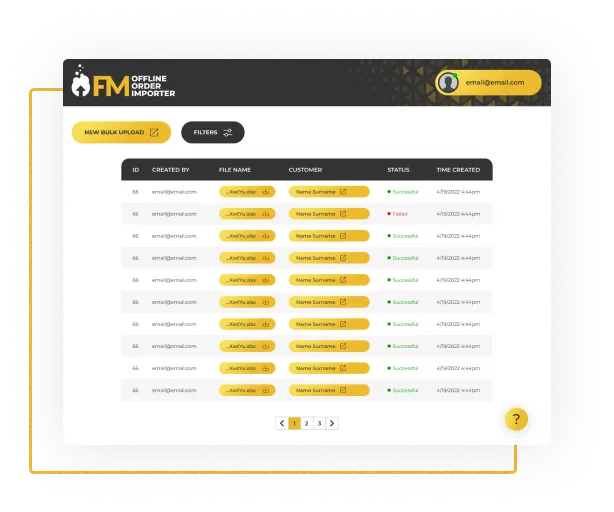 Manage Large Orders with Ease
Just because your eCommerce store is blowing up, your order upload processes shouldn't have to. The Offline Order Importer app was designed with one overarching goal in mind, to make your life easier. We've streamlined the process of hefty order uploads. From large lists of corporate gifts, to selling-out on your newest product, large orders just became manageable. With a single spreadsheet, you can now upload all of the information needed, eliminating the need for hours of tiresome clicking, dragging/dropping, and cutting/pasting.
Utilize our customizable template spreadsheets
Document creation has never been easier. Our Offline Order Importer app provides you with an intuitive template for all of your hefty order uploads. Simply download the provided spreadsheet, and input the relevant information in the labeled fields. There are two important tabs to familiarize yourself with: The Shipping Tab - This tab includes fields such as shipping address, product quantity, ship-by dates, and custom gift messages. The Billing Tab - The billing tab is where you can input billing information: customer name, contact information, company name, billing address, and any custom coupons or promotion info.
And that's it. Once you have provided your order information, our app does the work for you. Now that's a straightforward process. That's easy ordering.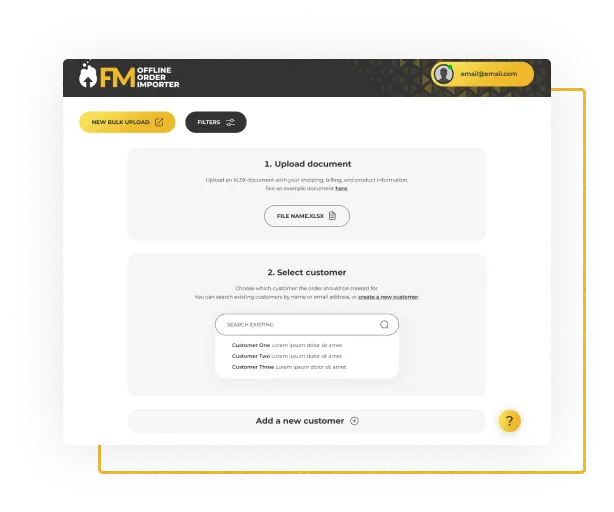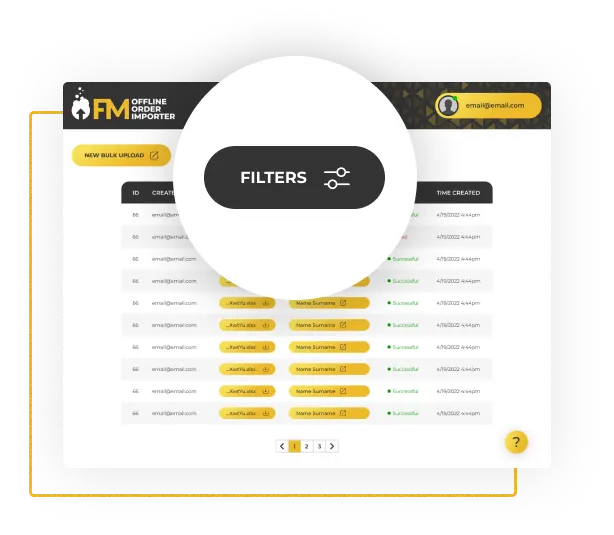 Filtering made easy
Need to reference a previous order to see where exactly those holiday gifts from corporate ended up? No problem! The Offline Order Importer automatically saves all of your previous orders to your personal dashboard.
Your personal dashboard displays relevant information for easy access. If you need to drill down further, you can click into any order to view specific information. If your dashboard gets a little overwhelming, you won't have to scroll through pages and pages of data. You can use the filter feature and filter orders by shipping address, product type, date, customer profile, and more.
Minimize Human Error. Maximize Output
Our automatic error detection feature ensures that double work is a thing of the past. If there is an empty field or incorrect information, it will immediately alert you. Additionally, The Offline Order Importer reports on any possible order-form upload failures in real time. If you have an important deadline, these reports can be crucial in keeping you alerted and mitigating human error.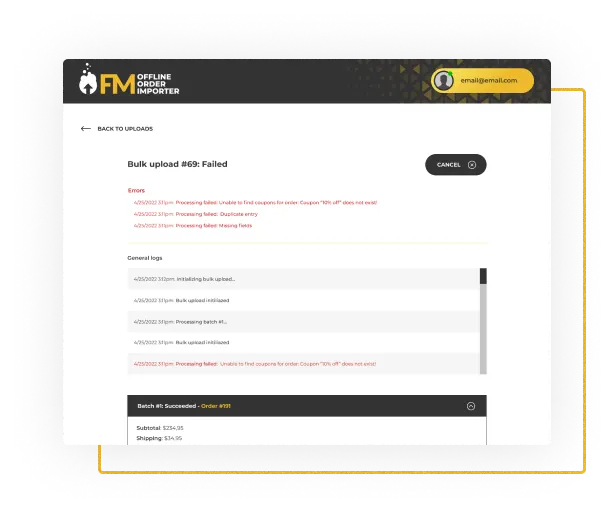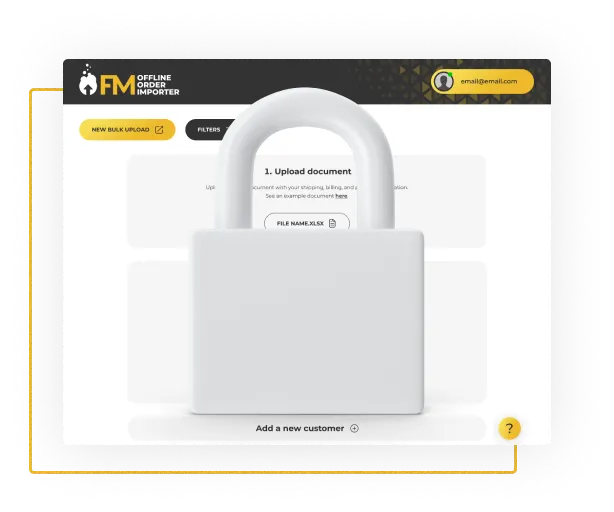 Keep Sensitive Information Secure
In this modern age of digital espionage, it's never been more vital to keep personal information secure. From personal payment information to customer credit cards, the Offline Order Importer app keeps your sensitive data protected and your mind at ease. We utilize firewall protection, data encryption, and regular scanning to ensure we maintain industry best practices in order to remain PCI compliant.
SUBSCRIBE FOR NOTIFICATIONS ON SHOPIFY AVAILABILITY
There has been a glowing response to the BigCommerce App, and we'll be bringing Offline Order Importer to Shopify next. To be notified of its availability via email, add your info here.
Have other eCommerce problems in need of solutions? Reach out using our Contact Us form below and let's discuss how custom theme development can relieve stress and boost efficiency for your team.
LET'S WORK TOGETHER
Like what you see? Send us a message to get in touch!