Graphic design touches almost every facet of our daily lives. From the typography used on trusted daily news sites to the packaging on our favorite snacks; it's ingrained in our routines. When it comes to crafting the perfect web presence, graphic design's impact cannot be understated.
We understand that choosing the right marketing agency can be a whirlwind. Luckily, Fahrenheit Marketing offers unparalleled graphic design services.
Partnering with us ensures quality service that is tailored to your business' needs. Our typical process entails open lines of communication and sufficient rounds of internal and external feedback (although our designers and devs are likely to deliver your dream site on the first try)! From the first phone call to the final stages of website publication, we believe cooperation fosters innovation. At Fahrenheit, we create beautiful designs, built for users, that preserve and accentuate your brand.
COMMITMENT TO THE USER EXPERIENCE
We believe that your website should be a direct extension of your brand. With this philosophy guiding our design, we build websites fully-dedicated to the user experience (UX). A user-first methodology in design guarantees the best possible outcome when it comes to converting casual visitors into paying clients. We keep accessibility (A11Y) in mind from day-one, auditing our processes to ensure the usability of our websites meet our stringent standards and theirs.
Because we are dedicated to providing your business with tangible and measurable results, we use data to inform our decisions around UX design. We won't continue investing in a design or channel that isn't working. Our designs are sure to promote your business with an attractive and functional website that will boost your digital footprint.
ACCESS TO A WIDE RANGE OF TALENT
When you work with Fahrenheit for website design, you get a diverse-array of skill-sets at your disposal. Importantly, website projects involve multiple components including wireframing, planning, design, website speed, SEO optimization, and e-commerce. Fahrenheit web design services seamlessly integrate each of these critical components to offer you an optimal online platform for business and profit.
At Fahrenheit, we are firm believers that the best website design work comes from diverse people working on multiple pieces and exchanging ideas. When you engage the Fahrenheit team on a website project, you get the combined talents of:
WEB DEVELOPMENT
DIGITAL MARKETING
MARKETING AUTOMATION
SOCIAL MEDIA MANAGEMENT
SEO
What Does A Graphic Design Agency Do?
Graphic design agencies`brainstorm and create visual communication tools such as webpages, infographics, and logos. These tools can form memorable brand identities, drive conversions, and increase consumer engagement.
Different graphic design agencies specialize in different disciplines. Some are experts in UX/UI web design, some pursue app design, while others excel in branding. Our graphic designers have varying backgrounds and come from all over the globe. This expansive worldview allows us to combine unique graphic design perspectives to deliver you the ultimate design package. Our graphic designers are experts in building detailed wireframes, creating comprehensive layouts, and crafting powerful CTAs to maximize your marketing potential.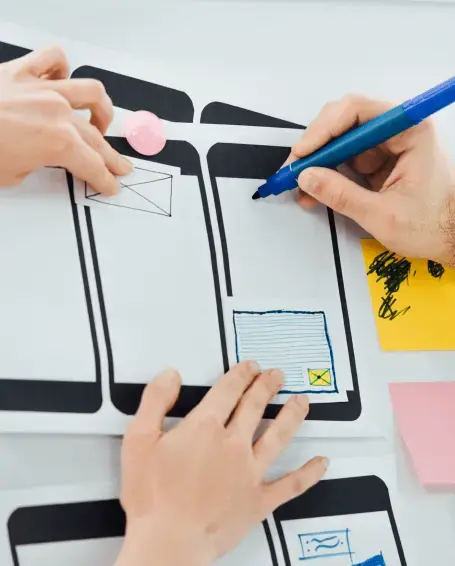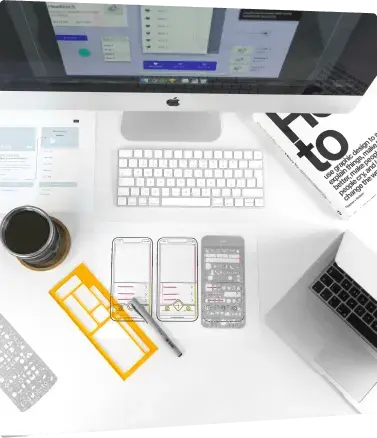 How Is UX/UI Design Different From Web Design?
UX/UI designers are trained to optimize how a website functions from a user's perspective. They ensure a site is easily navigable and create an enjoyable experience by appealing to basic human psychology. By conducting iterative testing and analyses, they are able to construct a viable web development strategy.
UX designers start by researching and planning a website's purpose and flow. Through these processes, they essentially construct the entire blueprint for a website. UI designers are in charge of bringing those plans to life. They construct this vision through numerous tactics like placing site elements where a user would expect them to be, using colors that appeal to human emotions, and utilizing spacing to create pleasing aesthetics. These designers must place adequate emphasis on the individual elements that make up the whole user experience. They construct rudimentary components: the buttons, menus, and layouts, as well as the overall theme in order to present a cohesive user experience.
Web Designers typically design the front end of a website. They are concerned first and foremost with creating a website that looks and feels attractive. They are generally creatives with expertise in color theory, programming languages, and conceptualization. Web designers tend to veer away from the deep dives into specific elements that UX/UI designers typically must conduct.
Why Should I Invest In A Professional Graphic Designer?
You may think hopping on YouTube and watching a few Adobe or CSS tutorials is a plausible way to save a few bucks. Although this isn't completely impossible, it is generally a good idea to hire a professional graphic designer. Our graphic designers possess distinct resources and knowledge to forge clean, beautiful, and consistent designs for your brand. They are also skilled in delivering custom interfaces and graphics designed with your target audience in mind. Additionally, we can provide you with professional support and project management. With a team dedicated to your success, you can eliminate any worry about overlooked website updates, a lack of cohesion, or missed deadlines. We've got you covered.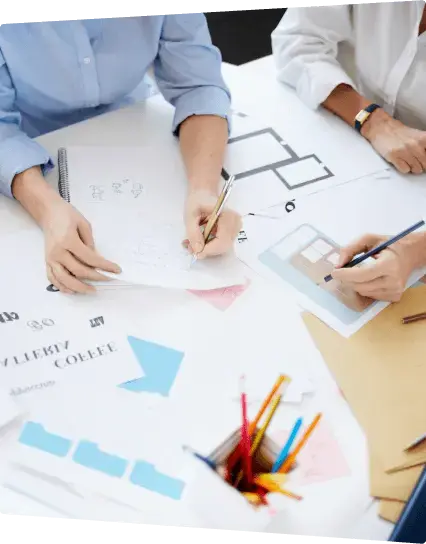 WE'VE DESIGNED SOME GREAT EXPERIENCES
Fahrenheit is an Austin-based marketing agency that prides itself on strong, ongoing relationships with our clients. Beyond the initial website design and development, our team can easily and seamlessly transition to assist with other strategic marketing initiatives. We will be there for you through the entire website design process, from discovery to deployment. With a proven track record of exceptional graphic design, let us help you transform your design strategy and elevate your business.
Want to check out our work? You can view our portfolio of custom-designed websites here.