We Do
MARKETING AUTOMATION
Marketing is a multi-faceted and frequently misunderstood discipline. There are an assortment of media that all need to be simultaneously optimized and managed in order to implement a wholly-successful marketing strategy. Some of these tactics are time-consuming, time-sensitive, repetitive, and require extreme precision. Instead of hiring someone for each one of these tasks, why not automate them?

Fahrenheit is a full-stack, marketing automation agency that can create custom solutions for your professional needs. Although we are platform-agnostic, we offer specialized expertise in automating with Hubspot and SharpSpring. Work with us, and let us improve your company's overall efficiency, productivity, client satisfaction, and data optimization.
Work with us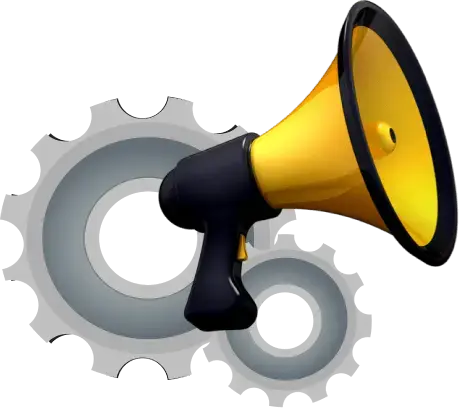 At Fahrenheit, we are marketing automation experts. We are dedicated to driving traffic down through the marketing funnel. From the initial awareness to the final conversion, automation is leveraged throughout the buyers' journey. By building automations, we are able to place relevant content in front of interested users, at the right time.
As they progress through the funnel by engaging (or not engaging) with specific ads, targeted emails, or websites, our dynamic content and automations adapt to whatever stage they are in. This builds brand awareness, trust, and loyalty for your business while customers navigate even the longest of purchase cycles.
OTHER MARKETING SERVICES WE OFFER
What is marketing automation?
Marketing Automation is the process of automating repetitive, time-sensitive, and costly marketing activities. There are a variety of marketing automation tools that can streamline your efficiency and reduce your costs. One of the most commonly-automated marketing tools is email marketing. From welcome-back greetings to abandoned-cart reminders, these emails increase engagement and consumer sentiment. Fahrenheit partners with both HubSpot and SharpSpring to create lead nurturing email sequences that are designed to transform leads into lifetime customers. Social media management is another tactic where automation may be beneficial. When managing multiple social accounts, it's easy to forget to post a photo or to run out of content ideas. We can help you build out a rich content library and can automate the launch and scheduling of social media campaigns. Utilizing SMS marketing is another way to delight
and engage your customers. We can leverage custom SMS integrations, contact-list-based triggers, and promotional campaigns all through automated text messaging. SMS campaigns have an extremely high open rate and can drive significant return on investment.
When considering the implementation of marketing automation, it's important to keep the user in mind. What are the pain points in your audience's buyers' journey, and how can you mitigate friction and encourage repeat interactions with your website? Our experts are masters when it comes to customer journey mapping, prospect nurturing, and omnichannel strategy. When it comes to utilizing automation to convert browsers to purchasers, we can create custom solutions tailored to your unique performance goals.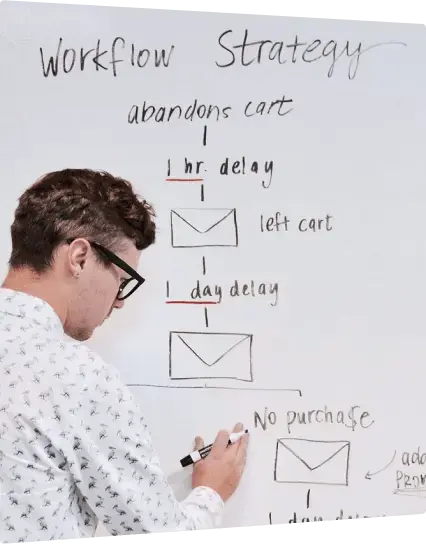 What are the benefits of marketing automation?
We really cannot stress enough just how much time and money marketing automation can save your business, however, there are many other awesome benefits these processes can bring:
Increase Employee Satisfaction - No one wants to do repetitive and mindless work. Implementing automation can reduce workloads and free up time for your team to think creatively.
Improve Processes - Automation speeds things up and removes the tedious nature of manual updates. Many of your messages will be time-sensitive; automation makes sure they are delivered on schedule, even when those times are in the middle of your holiday vacation. Your automation software can encompass multiple marketing tactics, all from one platform for easy navigation and data retrieval.
Optimize Data Utilization - Because all of your data on leads, contacts, and referrals is in one place, it's easily accessible and analyzed. Most automation platforms offer automated reporting, which allows you to actually use your data for informed strategic decision making.
Alleviate Customer Pain Points - Automation ensures consistent contact with your customer.You can personalize your marketing communications depending on consumer profiles and preferences to create an effortless experience for users.
COMMITMENT TO ACCOUNTABILITY
We are a results-based marketing automation agency that is absolutely obsessed with data. When it comes to partnerships, we value transparency and open communication above all else. We insist on upholding these values by ensuring that our clients' accounts are always fully accessible. In order to give you the most accurate illustration of how your marketing efforts are performing
we provide video-based reports. These reports can be shared both internally and with stakeholders, and we can provide them as often, or as little, as you'd like. Partner with us today and see the difference proactive marketing automation management can make.
We've achieved great
results for our clients
The best marketing automation agencies will listen to you and go the extra mile to exceed your expectations. With tailored plans and levels of service designed to meet your needs, working with us might just be the next step to bringing your business to the next level. Beyond implementation and development of your marketing automation, our team can easily and seamlessly transition to assist with other strategic marketing initiatives, such as SEO, PPC, and development of websites and custom apps.
Fahrenheit Marketing is a digital marketing agency in Austin, TX that prides itself on a client-first mentality. We have the tools and expertise to build a tailored marketing automation strategy for your business.
Want to see some of our exceptional work? Check out our portfolio here.