At the start of a new decade, the third one of this century, there is no longer any need to reiterate why a website is needed.
The cyberspace is all around us, and our website is our calling card. For business, for an online store, for a blog, you need a website. Even individuals need one – after all, most of humanity is on Facebook and Instagram, and that is a micro-website.
Thankfully there is no longer the need to know to code to set one up. You can drag and drop elements on a page and create one using almost any free software to build a website.
There is also no need to pay for a basic website. You get one for free with most good website builders.
With so many types of free website building software out there – how to know which is best? We did a survey and share our findings below.
The Best Website Builders Of 2020
WordPress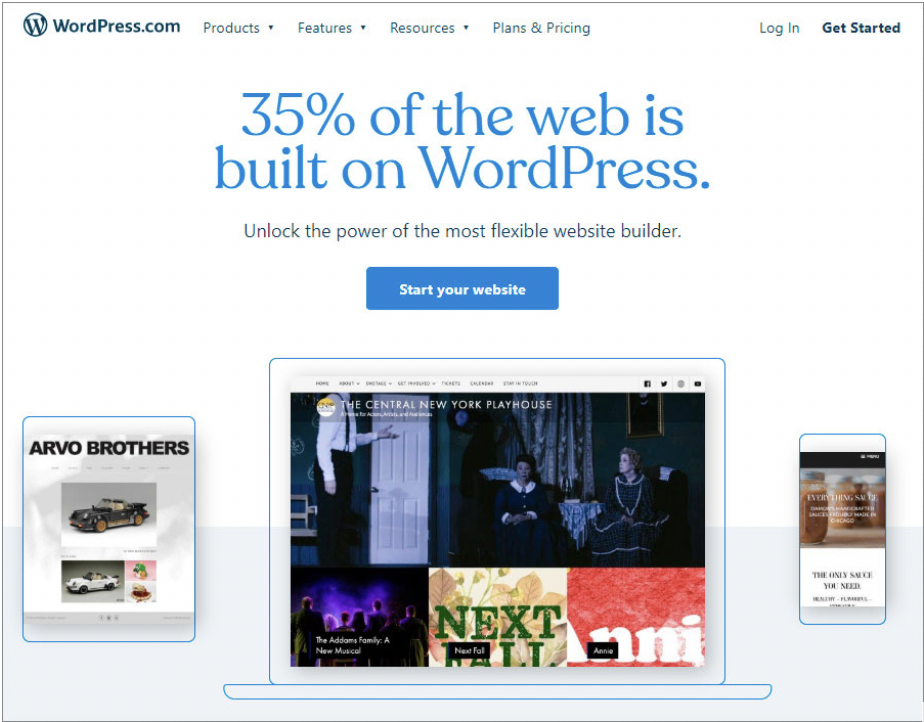 WordPress (the org version) remains the best free website creator in the world. It would not be a stretch to say that it is the backbone of the web that we browse. From Time.com to TechCrunch and Quartz, all use WordPress not only because it is a good website builder but also because it is an end to end Content Management System.
Along with its library of 3,500 free themes and 50,000 plugins, it is the most sought after website builder that can be used for blogging, forums, online stores, media streaming, and anything else you can think of. Of course, it is only a framework, and you have to buy hosting and do your own backup and maintenance.
Wix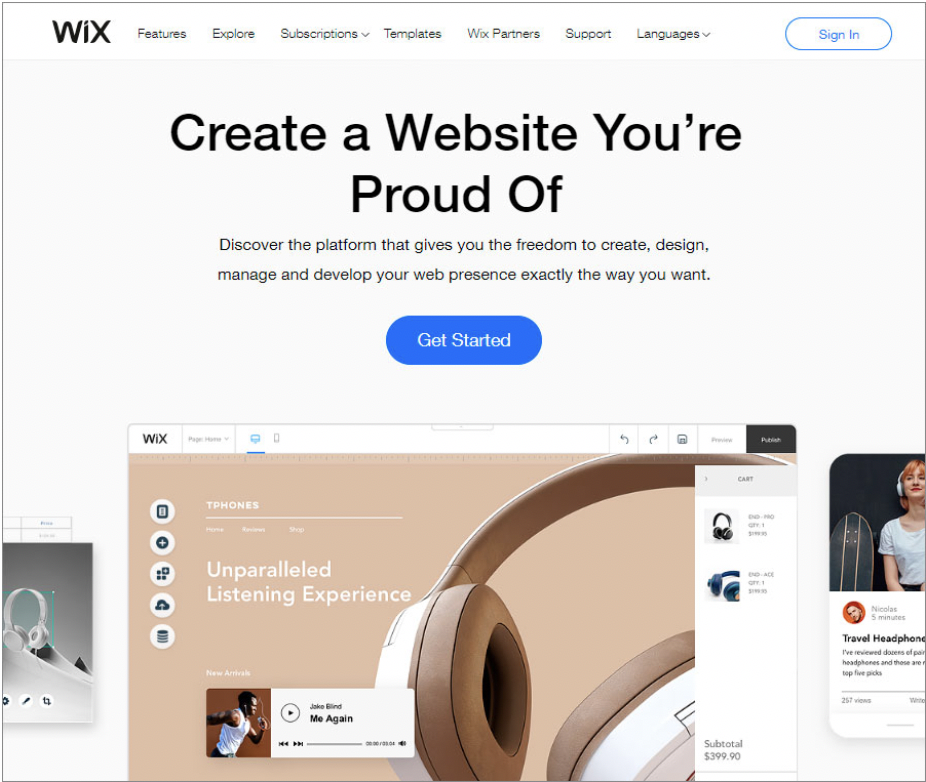 Wix free website builder is also a hosting provider.
Wix allows you to create sites with no knowledge of coding and no experience of building websites. You could use the WYSIWYG editor or the ADI which asks a few questions and sets up the site that it believes suits you best.
Its appeal is simplicity but great versatility. Sites built using Wix load fast and are mobile-friendly. There are a large number of templates that can all be modified to some extent.
At $29 per month, you get excellent tech support and hosting.
The downside is that once you have chosen a template you cannot change it without redoing most of the work.
Weebly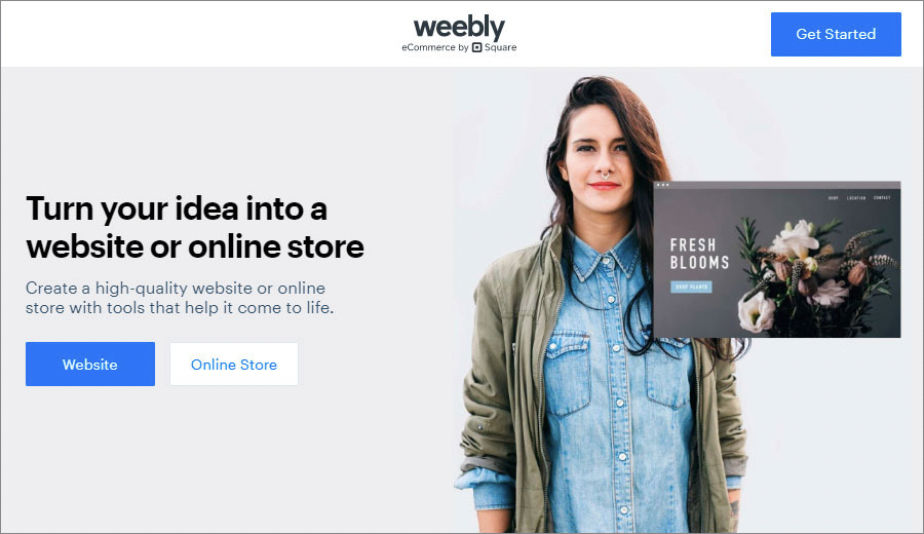 Always mentioned in the same breath as Wix, Weebly comes up as a popular way to create a free website. Yes, its similarities with Wix are quite considerable.
But they differ in offering fewer choices, and thus less confusion. If you want a great website for your company up and running in a couple of hours then go for Weebly. It is also far cheaper and the least expensive plan starts at $12 per month and offers free SSL certificate and ability to run a simple online shopping page.
For $25 a month you could have access to a full-fledged e-commerce store that provides detailed analytics about your sales and inventory.
Bookmark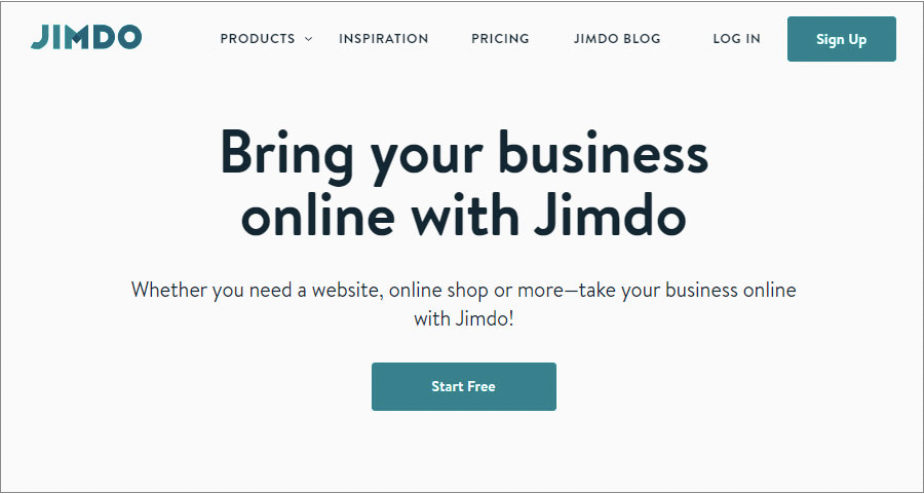 Bookmark is a contemporary WYSIWYG free html5 website builder software. The USP of Bookmark is its artificial intelligence powered design assistant tool called AiDA. With this tool, you can have a functional website ready in as little as 2 mins!
Bookmark offers you a vareity of beautiful website templates that you can customize using its user-friendly editor. Among the benefits you get with the free plan are 1 GB bandwidth, 500 MB storage space, a subdomain on the Bookmark.com domain, free web hosting, SSL security, and a mobile-ready website. This makes Bookmark a lucrative option for businesses looking to create a free website without a lot of heavy visual content.
It is perfectly suitable for creatives and professionals who want a site to broadcast their products, services, gallery of work to clients and also engaging in e-commerce.
Jimdo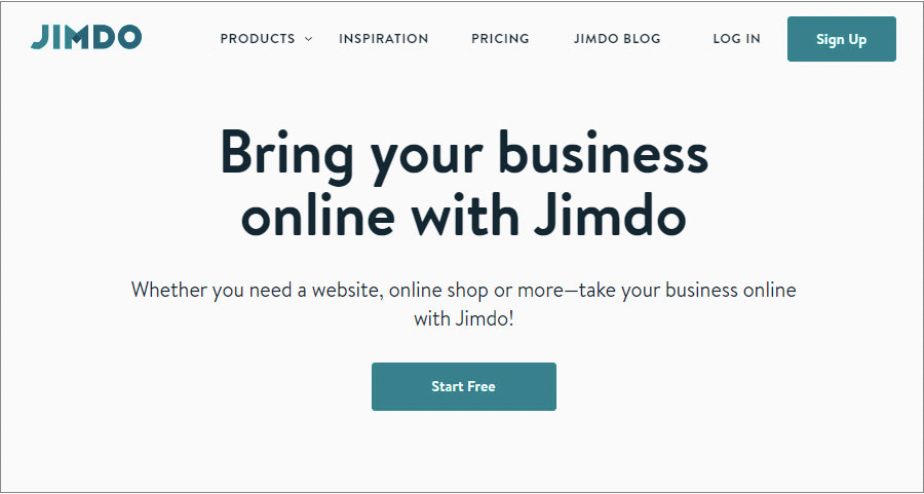 Jimdo is smaller than Wix and Weebly, but with 20 million users, definitely not a niche player. At $9 for a premium plan, it is cheap and affordable for those who want a presence on the web.
What does Jimdo offer? They have plenty of themes to choose from. All of the sites come with an https prefix and storage space of 5 GB.
If you pay, the more you can upgrade storage. You also get a free email address as well as site backup.
Tech support is a little spotty at times. There is no phone or live chat but support only via email.
XPRS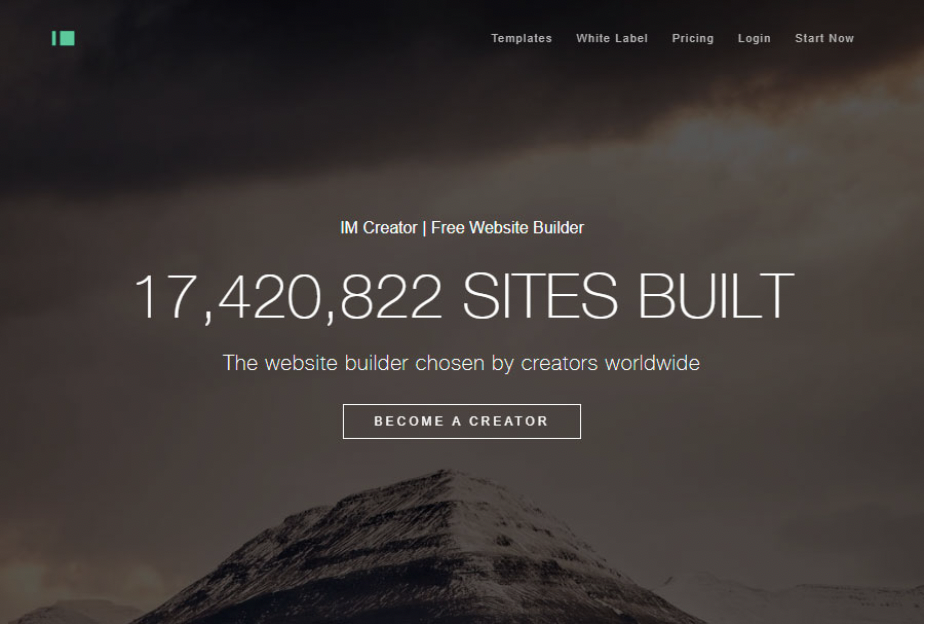 It is brand new and from an old player IM Creator. The platform is still immature, and the interface tends to feel clunky.
There is no lack of features, but simple tasks such as managing and editing a blog post take several steps.
There is a third party online store solution known as Shoprocket that can be integrated into the XPRS shell. However, it is quite rudimentary, and there is a steep learning curve.
Why is it useful? The visual appeal is excellent. A great looking website is one that is most likely to hold back visitors. That is where XPRS scores. However, that comes at a rather steep $25 a month.
Strikingly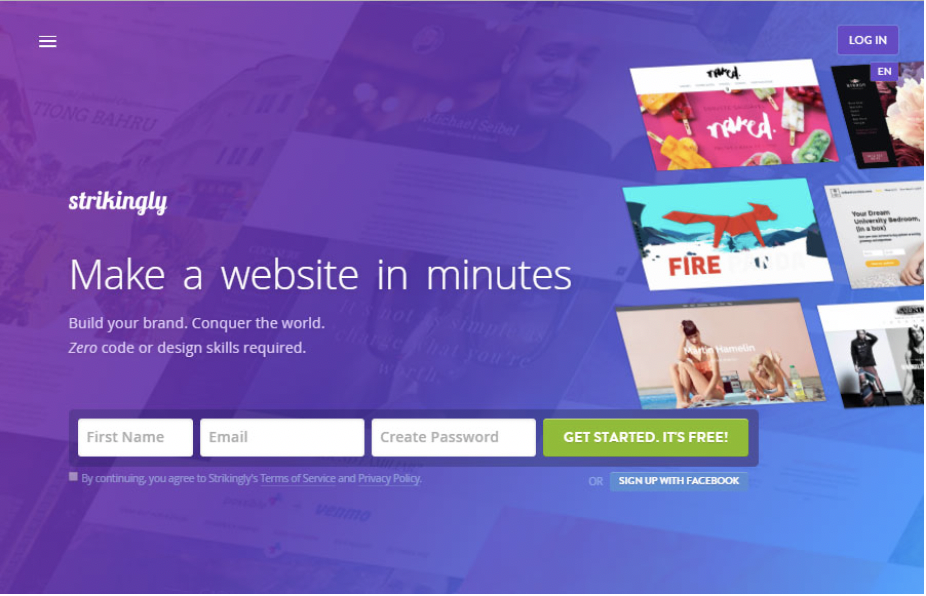 Strikingly is a great one-page website solution. It is meant to be easy – as easy as setting up a social media account.
It emphasizes on super simple layout and ease of loading. It certainly has a lot of aesthetic appeals, though not as much as Squarespace or XPRS. But it is remarkably cheap at $8 per month all-inclusive and is perfect for those who have a small business.
Does that not make it sort of similar to a Facebook Business Page. Not exactly, since you can't optimize Facebook profile.
Strikingly also allows you to edit HTML and add code to their site, such as Facebook login.
Webnode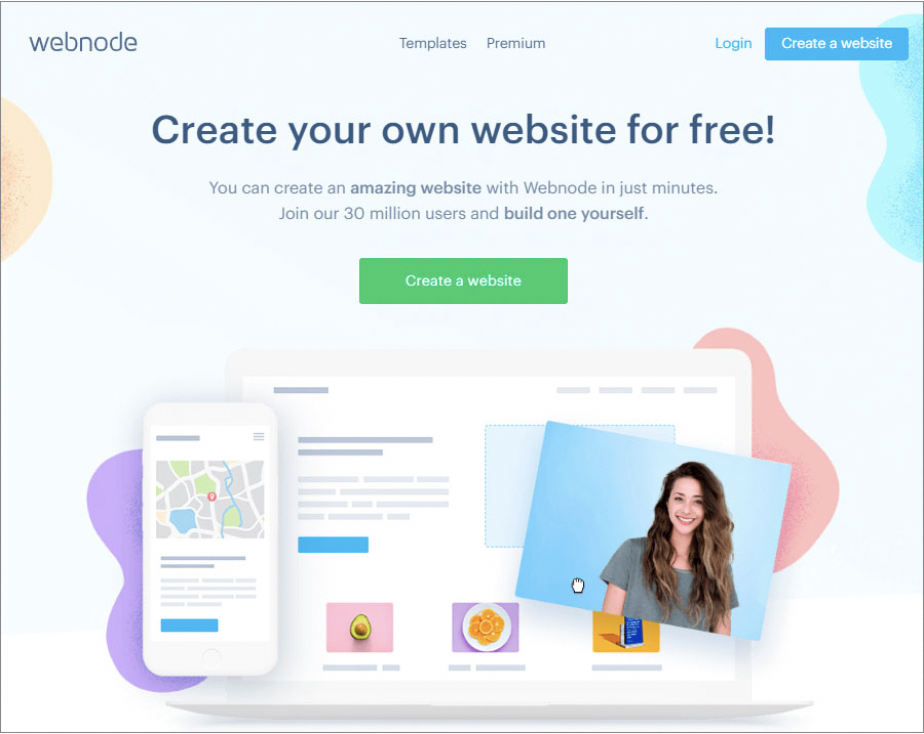 The recent excitement around Webnode is due to its unparalleled ability to host multilingual sites. It can translate and display content in over 20 languages without any hitch.
This is needed if you run a global site, be it e-commerce or a blog about medical conditions. The usual prices of low priced paid plans vary between $5 and 12 and brings with it free hosting and maintenance.
To use all the languages and add a shopping cart, you need to pay $20 per month.
The online store plugin can handle a variety of filters based on price, color, popularity, and allows checkout in several languages with local currency.
Site123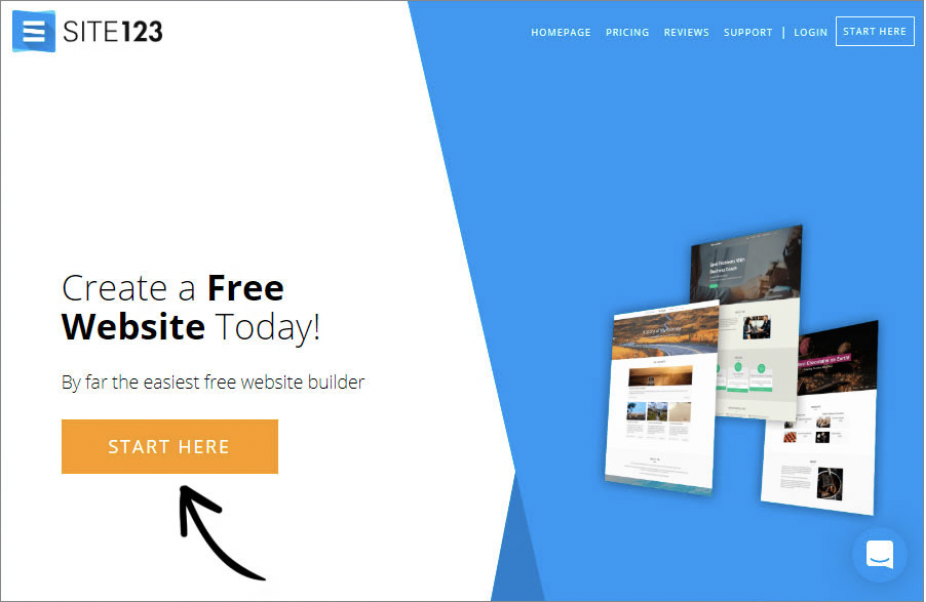 A very new company, Site123, is a scaled-down version of Wix and a jack of all trades. Coincidentally like Wix, it is also from Israel.
The main advantage is that you get responsive sites that adapt to the screen size quickly. Built-in SEO is well designed and works well with slight tweaking.
The biggest plus is an extensive image library with hundreds of thousands of images for free. The use of appropriate images is a must for blogs, and Site123 creators thankfully realized this.
Also, you can add unlimited pages, something that many other free site builders do not allow.
Duda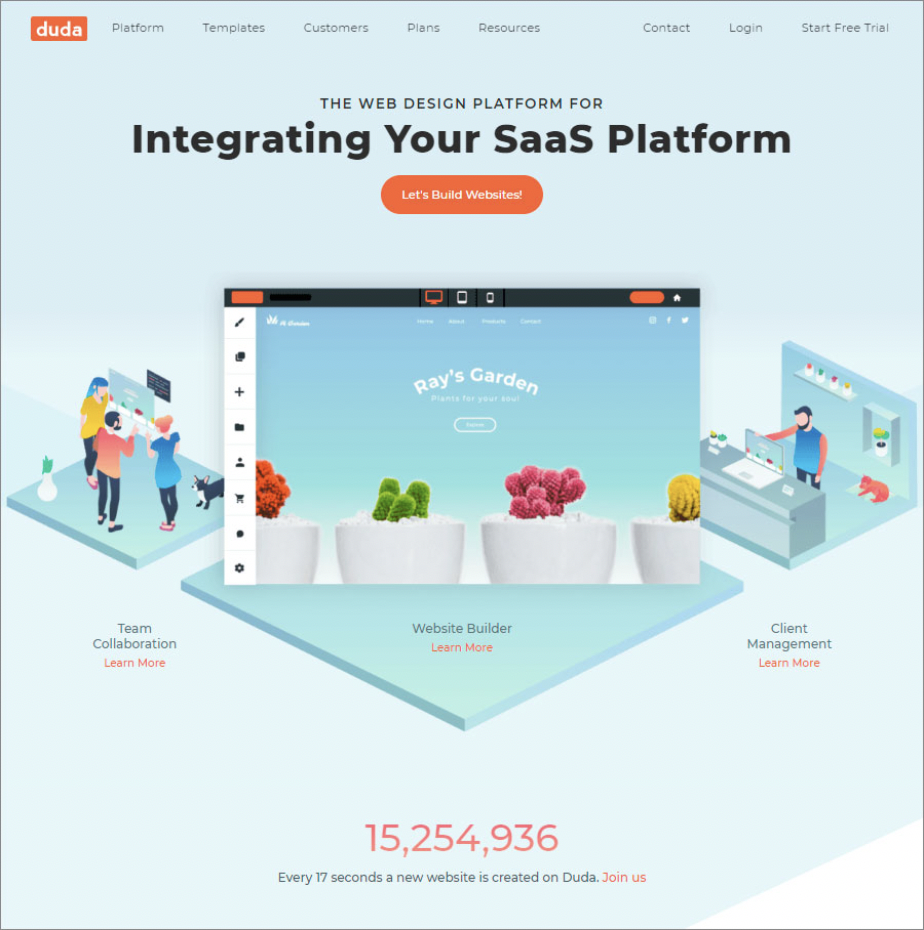 Duda is new and does not want to walk on the path trodden by other website builders. It builds mobile-optimized sites that are fast loading.
While that might not seem like much of a differentiator, consider that Google SERP places heavy stress on mobile loading times, and over 50% of web traffic originates from a smart device.
Though it is a new platform, you have access to over 75 beautiful templates. Each of them can be personalized quite a bit.
There is a dedicated app store that can provide the best solutions for analytics and social media integration.
Priced between $7 and 19, it is cheap. At the upper end, you also get online shopping functionality.
Which One To Choose?
As reviewers, we have to choose one. That will probably be WordPress now and in the forthcoming future. It is because it is so wide and expansive in its reach, and the plugins cover everything. Add WooCommerce, and you have a full-fledged shopping site that can rival Amazon if configured correctly.
Is there a downside to WordPress. Yes, the sheer variety can be troubling to many. There is always one more way to tweak a WordPress site. But that is its beauty to us.

Check the following link where we have been featured as a top digital agency in Austin for 2020.
https://www.designrush.com/agency/website-design-development