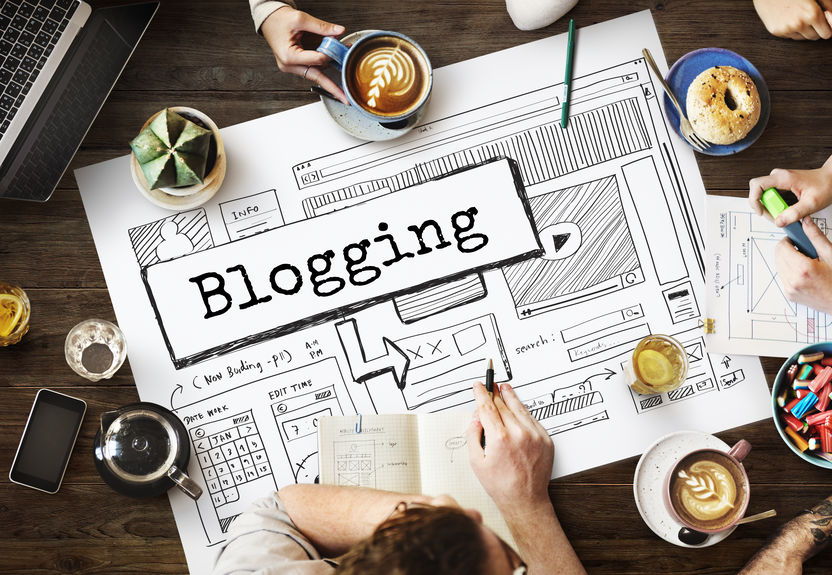 In July of 2005, 19-year old Pete Cashmore set up a simple WordPress site and began writing about digital media. It was a personal interest of his in which he wasn't sure there was an audience.

The blog evolved into "a global, multi-platform media and entertainment company"  and sold for $50 million in 2017. 

Cashmore, the Founder of Mashable, went on to receive many prestigious awards such as Inc.'s "30 Under 30" and Time Magazine's List of the 100 Most Influential People. 

Blogging won't necessarily turn all of our businesses into global powers (maybe it will ;-)), but it can certainly help you attract new business. According to HubSpot, "Marketers who prioritize blogging efforts are 13x more likely to see positive ROI."

This is because blog articles enhance credibility. A Demand Gen Report in 2016 revealed that nearly half of buyers "viewed 3-5 pieces of content before engaging with a sales rep." (Source)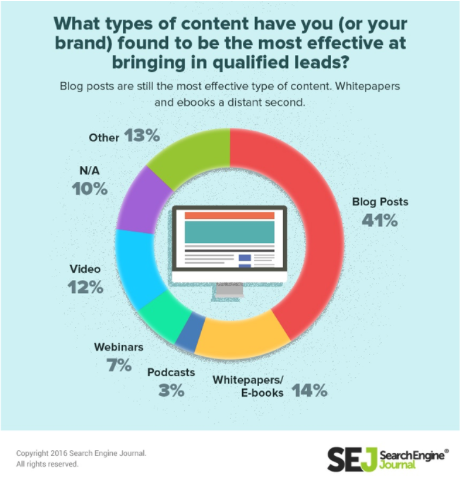 Having blog articles on your website can also help with search engine optimization (SEO), meaning, when your customers are searching for solutions to their problems, your website will outshine your competition. 

Finally, it makes marketing online easier as a whole. Consistently putting out blog posts gives you a plethora of content to share on social media or with your email subscribers.

In this post, we'll show you, step-by-step, the system we use at Fahrenheit to churn out valuable blog posts week after week. 

Step 1: The Set-Up 
There's a quote attributed to Benjamin Franklin that says, "If you fail to plan, you are planning to fail." 

The biggest struggle most organizations have with their blogs is consistency. They feel as if there are always higher priorities to take care of. They deal with fire drills, distractions, and interruptions that prevent them from sitting down and writing. They struggle with feeling motivated or are unable to come up with ideas.

Google rewards you for keeping your blog up to date, and according to Hubspot, "one in ten blog posts are compounding, meaning organic search increases their traffic over time."  So the more articles you write, the more of this compounding effect you'll tap into. 

We've found that what makes our blogging consistent happens long before we write a single word.

In his phenomenal book, Be Excellent at Anything, Tony Schwartz cites a study about a group of exercisers. 

In Group 1, people were simply asked to exercise once (for 20 minutes) within the next 7 days. Less than a third of them actually got moving. Group 2 received the same request but was given some supporting evidence about how wonderful exercise is for you, and a few more of them exercised (39%).

The final group was asked to give specific days, times, and locations they were going to exercise ("I will exercise Wednesday at 5:30p at the gym in my apartment"), and 91% of them broke a sweat. That's insane!
This is why having something like an editorial calendar is so useful (When and where will you write? What will be the topic?).

| | | | | |
| --- | --- | --- | --- | --- |
| Monday  | Tuesday | Wednesday | Thursday | Friday |
| Pick a Topic + Research | Outline + Write Draft 1 | Edit + Share on Website | Share Article with Email List & Social Media | Leave the office early 😉 |

At Fahrenheit, we post new articles every Monday. Having a system like this in place allows our content team to plan their week, avoid distractions, and consistently churn out new articles.

Step 2: The Outline
You know the feeling. The one where you open up a blank document and that cursor just blinks back at you. You may have an idea of what you'd like to write about, but you don't know where to begin. 

Whereas other people may dive right into the first paragraph, we like to begin with an outline. 

First off, what type of post are you writing? The type of post can affect the outline structure you use. There are many avenues you can take. Such as:
How to/Instructional

Case Study/Customer Stories

Press Releases/News (

example

)

Industry Trends

Resources (

example

) 

Interviews 

Once you know where you're headed, you can chunk the article down into pieces. For example, here's where this article began: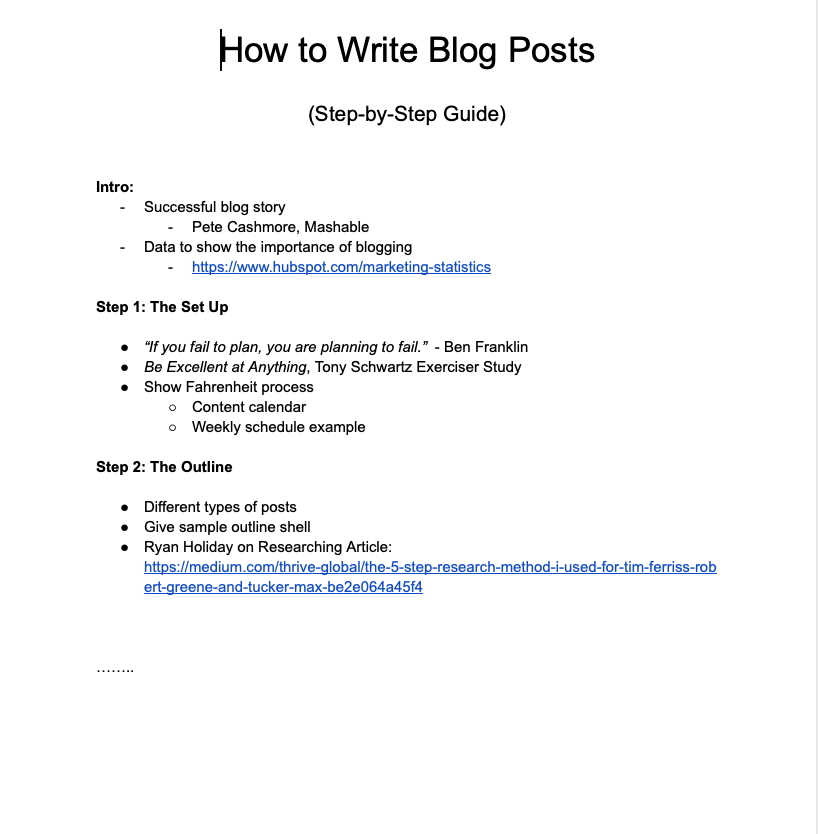 If you're not sure how to break a post down, here's a basic template you can copy:

[Intro]: What's the post about?

[Big Ideas] (1-3 points you want your audience to take away): 

Big Idea 1: Resources? Examples? Quotes? Links? Key takeaway?  

Big Idea 2: Resources? Examples? Quotes? Links? Key takeaway?  

Big Idea 3: Resources? Examples? Quotes? Links? Key takeaway?  

[Call-To-Action]: What do you want them to do?

Now pour the information in. Under each section in our outline, we list out bullet points of anything that we find useful to our big ideas. We find quotes, links, data/stats, useful stories, personal experiences, and anything else we come across in our research. 

Author Ryan Holiday says, "If you want to be able to make a compelling case for something you need stories that frame your arguments, rich anecdotes to compliment tangible examples, and impressive data so you can empirically crush counter arguments." (check out his 5-step process he uses for New York Times Bestselling books). Find the data that it useful to your audience, and make a note of where it might go. When you do, you'll find that writing the actual article becomes a lot more fluid and effortless. 

Step 3: The Terrible, Horrible, No Good, Very Bad First Draft 
Most people (mistakenly) begin their writing process here. But we find that it's much easier if you take the time to go through steps one and two. That way, you already have all the ideas, data, and words you need. It's just a matter of tying it all together.

With that said, your first draft is still going to need some work. The great writer Ernest Hemmingway once said: "The first draft of everything is [crap]." Although, he didn't say crap…

The quality of blog posts matter. Search engines are getting better at recognizing quality and measuring engagement, but that doesn't mean that the first draft has to be quality. 

This is important because it allows you to move deep into "writing mode." It allows ideas to flow and you'll be surprised how many gems come from this brain dump. Try not to judge, self-edit, or reread every line. Just write. Write exactly how you talk and don't worry about the outcome. 

Entrepreneur Ramit Sethi does an excellent job of taking us through his writing process here. He acknowledges that he knows it's not very good yet, but it's not supposed to be (at least not yet).
Once you complete your  Terrible, Horrible, No Good, Very Bad First Draft, then you move into the clean-up phase and focus on quality.


Step 4: Read It Out Loud
This is the editorial stage. This is where we turn that no good draft into the spectacle you're reading now ;-). There are three things we do to turn our draft into the final version. 

First, step away (for at least a few hours). Looking at your writing with fresh eyes will help you catch mistakes and funky wording. You may even find that a point you thought you nailed makes no sense a day later. This is the most underrated editorial tool there is. 

Second (after you've taken time away, right?), read it out loud. Often what sounded good in our head sounds choppy out loud. Reading it out loud also ensures we are using the right voice (whatever you choose your brand voice to be).

Lastly, use a tool like Grammarly to check for common spelling and grammar mistakes. It has saved us from silly mistakes over and over again.

—

Implementing a system like this will speed up your blogging process and allow you to put out new posts consistently. Despite what you may have heard, blogging is not dying. It's just more about quality that quantity. Search engines and customers will reward you for putting out engaging and useful information that they genuinely love and want to share.