The Look Of Success

---
Promoting the best business file sharing & synchronization solution in Europe through a meticulously-crafted responsive website.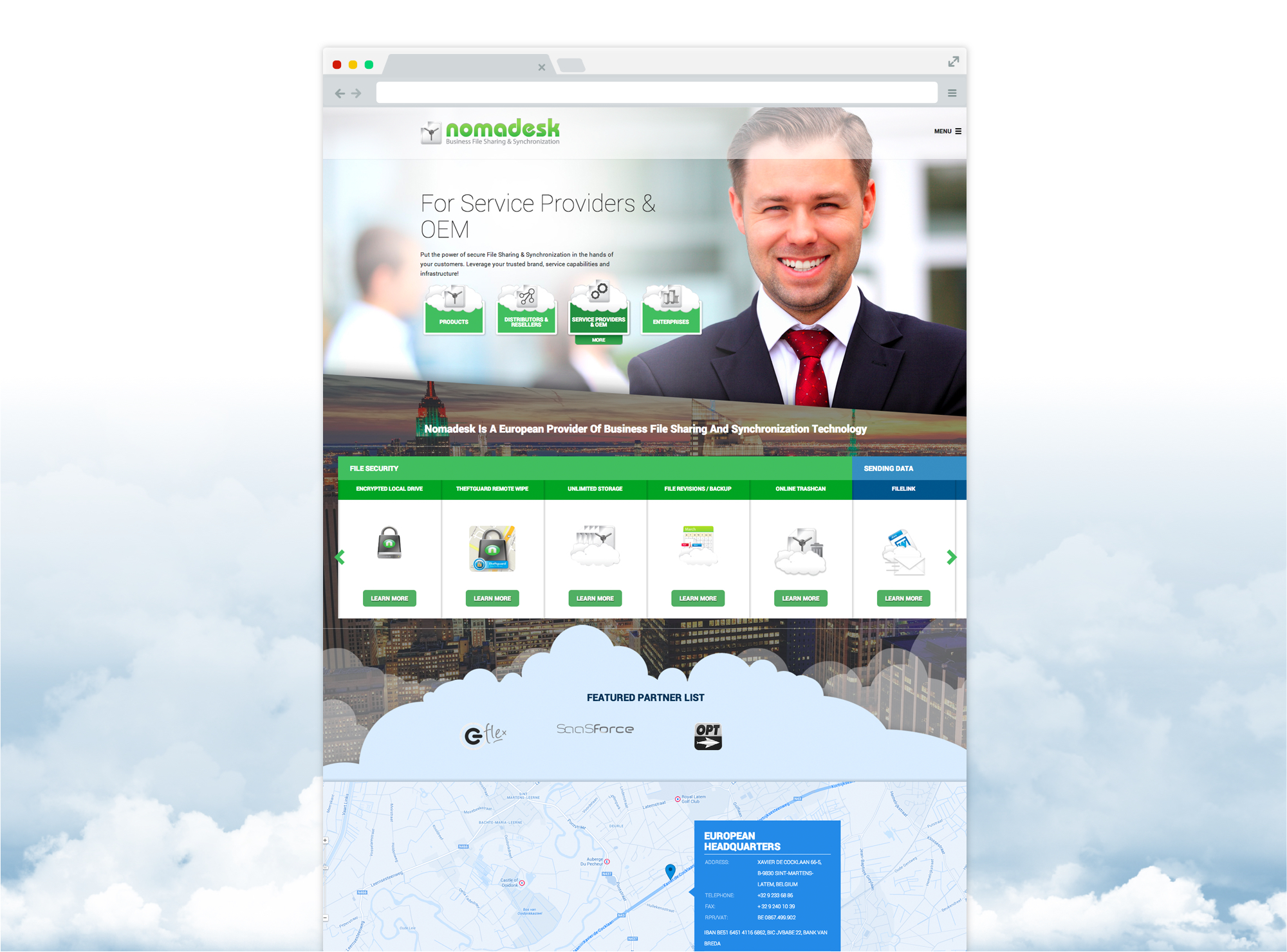 Diagnosis

---
Understanding our mission for this project was simple: Create a beautiful, intuitive, and mobile-compliant website that would meet the needs of its users without a fuss.
After our analysis, we determined the following issues needed to be addressed:
Out-of-date website design | A tech company with a lackluster web presence is simply not acceptable.
Clunky user experience | Large companies suffer from this ill too.
Mobile users neglected | The existing web property did not intelligently adjust to fit into mobile devices, creating frustration and poor brand perception.
What they needed

---
In order to meet the client's goals, we had to create a cohesive plan that would address each of the weaknesses identified in a timely fashion, as we only had a few weeks to complete this project.
Design Concept

---
We had a great time during this phase as we were designing for the European market. A very different approach was taken when conceiving the repackaging of the Nomadesk brand. A clean, minimalist design with big, bold captions and lots of white space seemed like the way to roll.

General Design

---
Because a large portion of Nomadesk's clients operate from mobile devices, it was important to create an experience that would take advantage of features like scrolling (finger swipe). Buttons were made big to avoid user frustration as they made their selections. An overall sleek and sophisticated tone was carried page after page, remaining consistent with the new brand vision as well as the likes of our European users.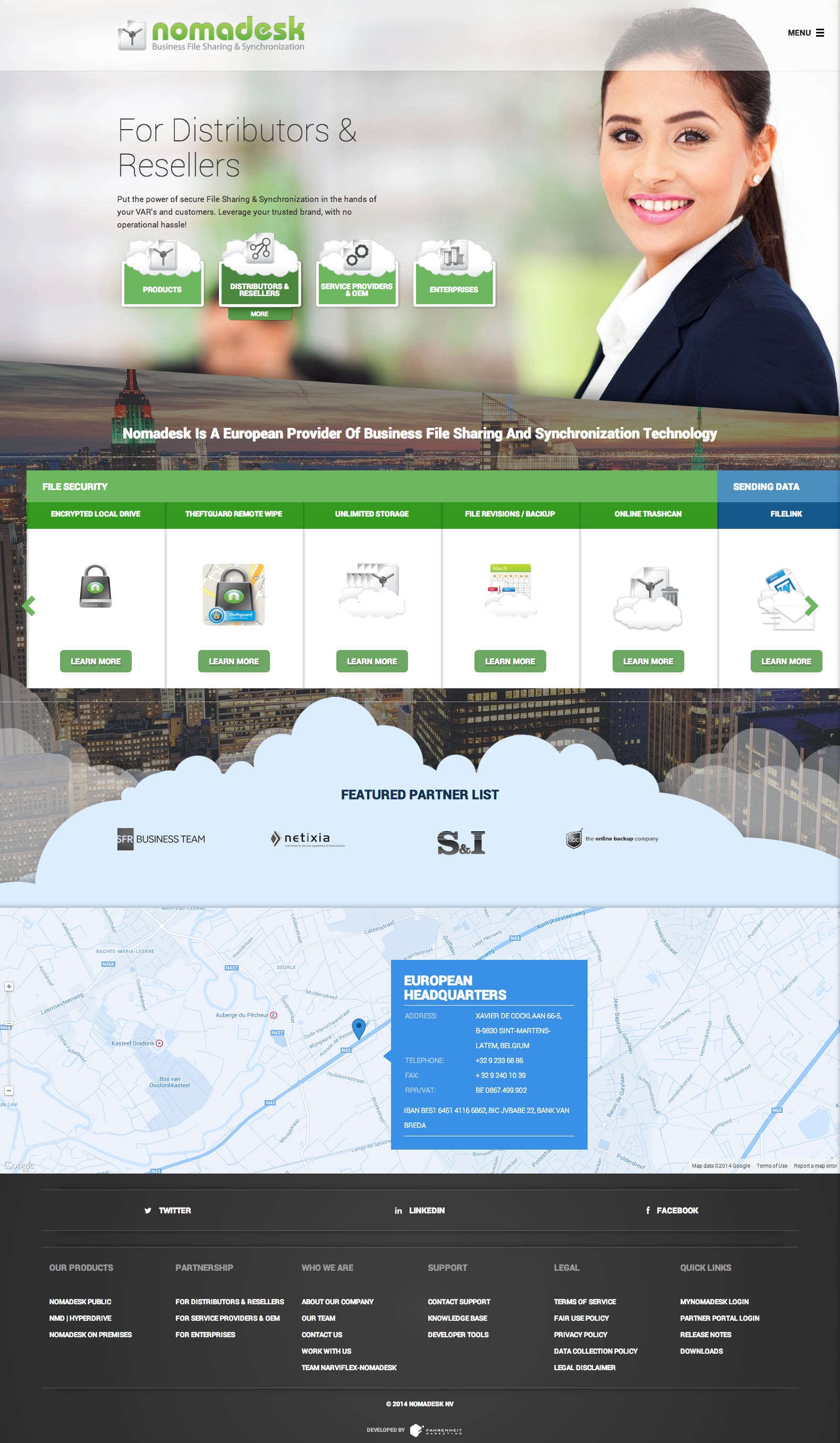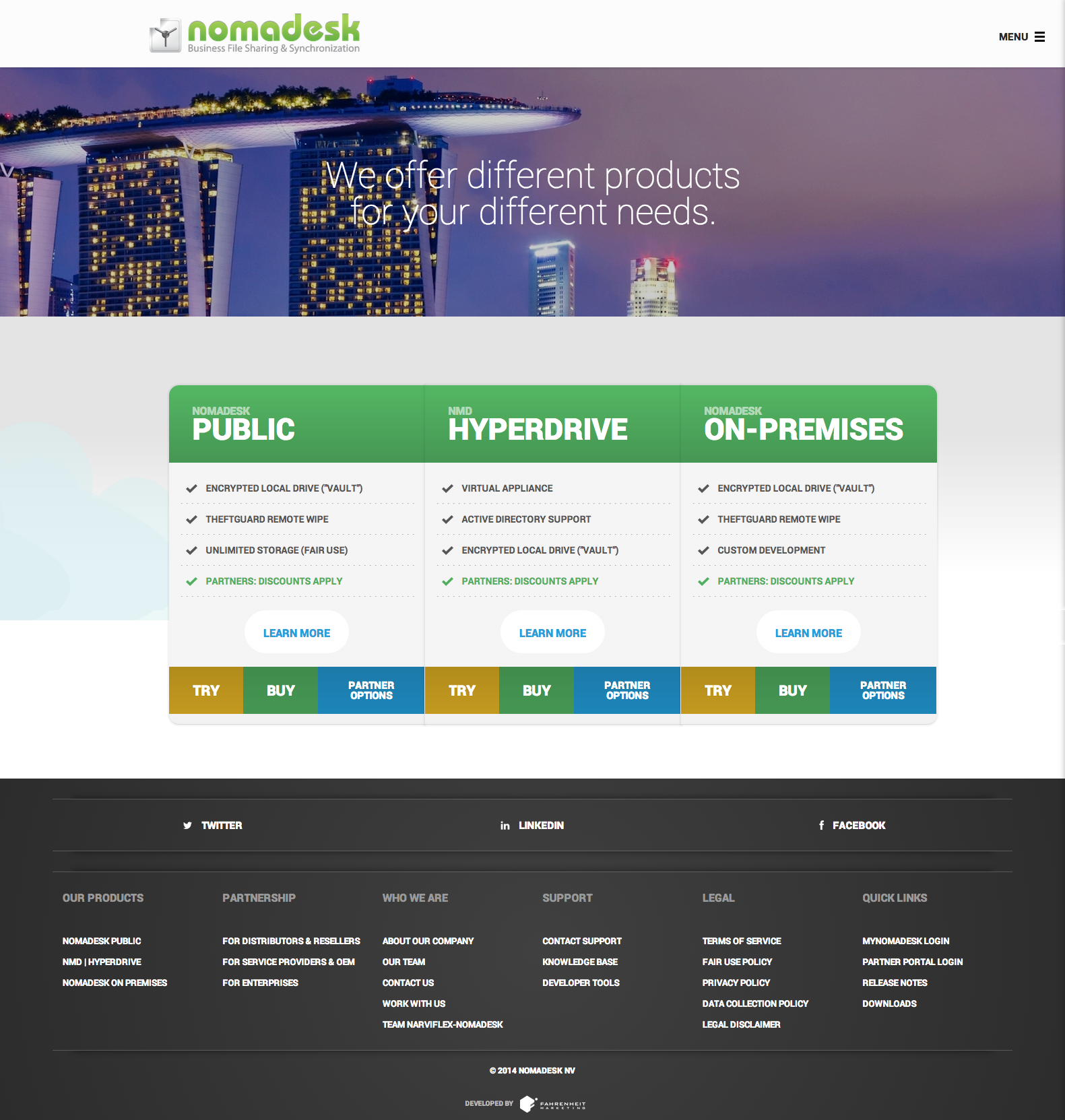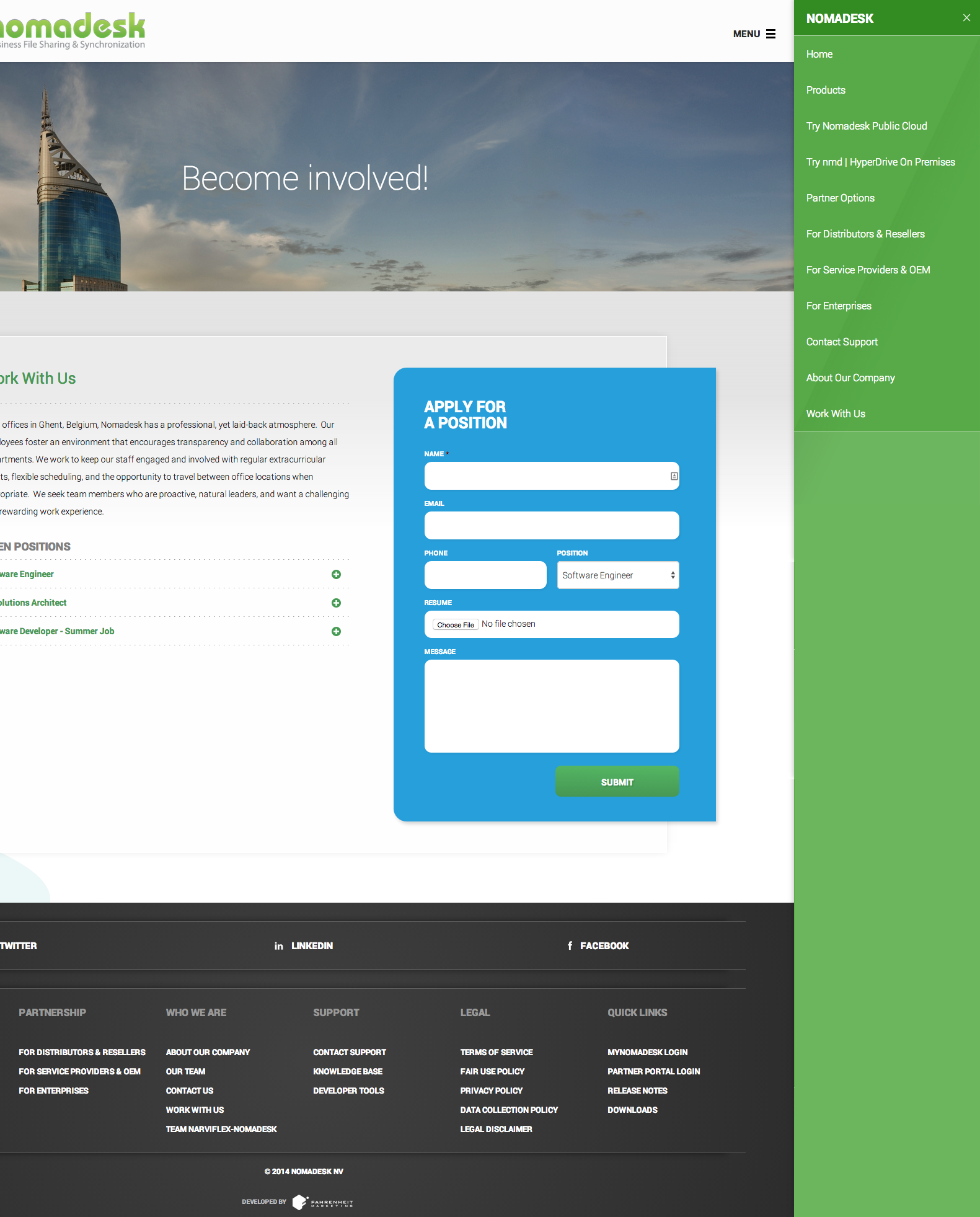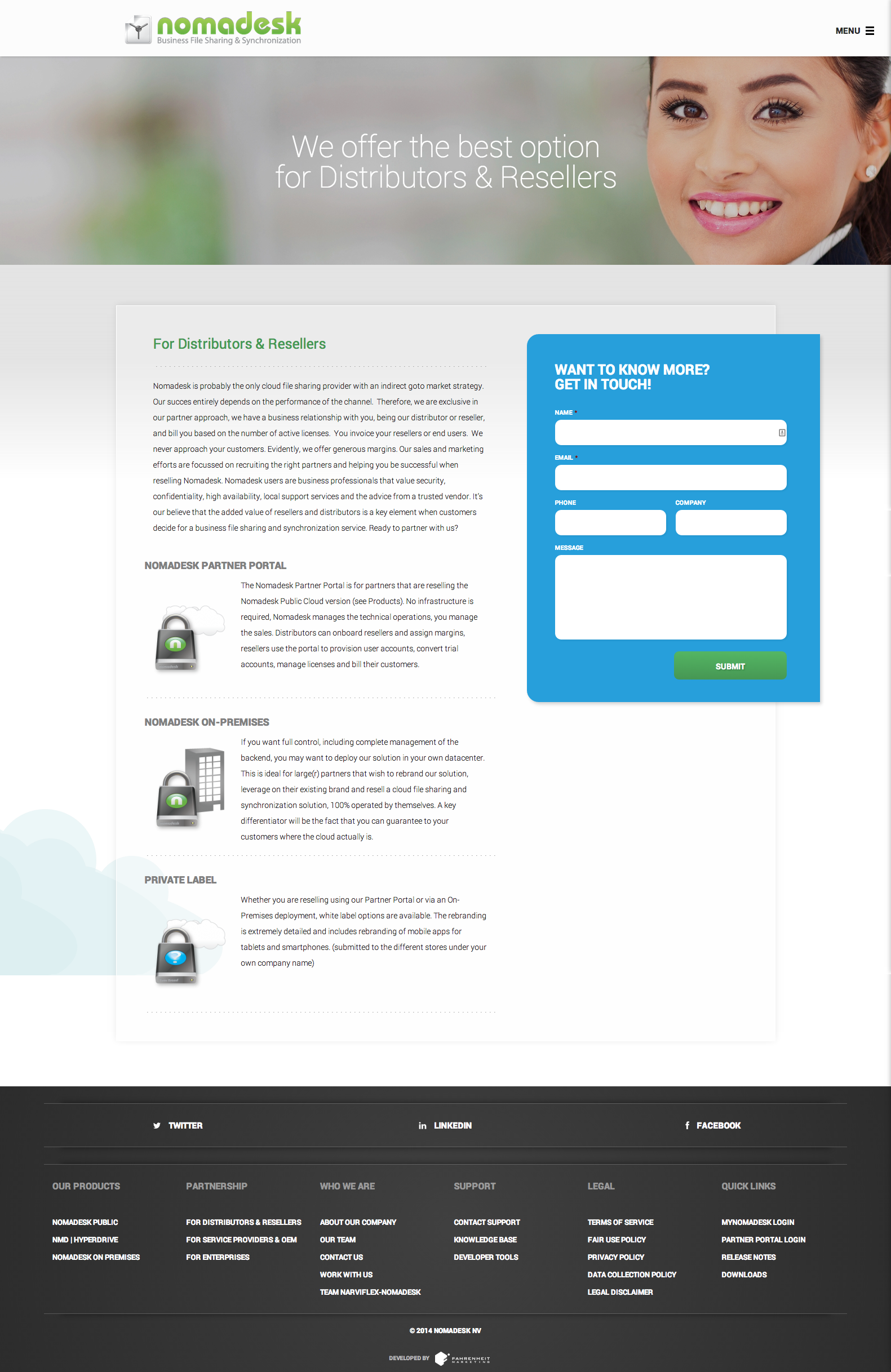 Results

---
After the launch of the new website and brand repackaging, Nomadesk experienced a surge in website usage, since for the first time the site was made for all devices.
Mobile users we happy because the website was entirely responsive, displaying content perfectly within any screen size.
The client was happy because the website's CMS was incredibly intuitive and offered extensive customization of content, media and other resources.
Nomadesk has gained notice from companies large and small and is now taken more seriously as a technology leader and alternative to its competitors in the data sharing and storing world.
Next case study

---