what can shopify do for your business?
Shopify is one of the most commonly used eCommerce platforms. 1.58 million websites use Shopify as their eCommerce solution for online selling. It allows owners the ability to sell online without guesswork or estimation. It allows designers the freedom to make their online presence match the atmosphere and persona of their brand. It allows marketers to reach out to buyers and demonstrate why their products and services are best. If you have been using Shopify, you already know it works, but you may not have leveraged its full range of business-enhancing potential.
Off the shelf and out of the box, Shopify is already a powerhouse with tons of capabilities. As a standalone application, it can function as your business's primary website or meld with a WordPress site using plugins. More than a catalog or brochure, Shopify allows users to make purchases from your website or through ads placed on other sites. Popular social media sites like Instagram or Pinterest can directly link to your online store. For those with physical stores, Shopify integrates with your POS equipment and inventory. Scalable in its costs, Shopify can grow with your company.
Shopify has everything you need to get started. But its true power lies in its ability to be customized. With an impressive ecosystem of third-party apps, you can accomplish just about anything you want. Customize the look and feel of your user experience. Add features that make your site work the best for you. Shopify is business-ready from day one. It is considered "no code" software, meaning that you should not need to be a developer to open your online store and utilize the software. We agree; it is functional but spartan, and you'll want features it doesn't come with. If you have the coding ability, it can be customized in many ways. At each phase of your growth, custom developers can adapt the code to open new options for your business.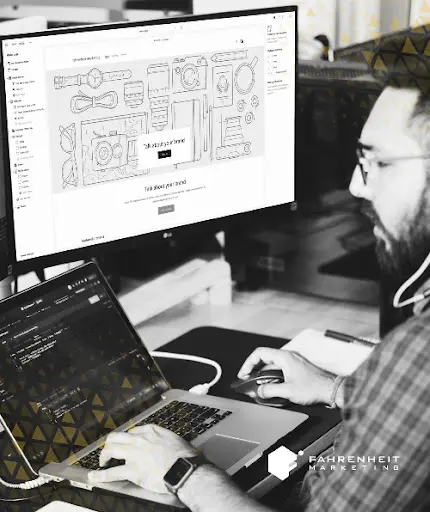 In web design, the look and function of a website/page are as important as the coding that goes into it. An attractive, logical shopping experience keeps visitors engaged. Without it, they will soon click away. Themes are the templates that your Shopify website uses. Your template, called a theme,  is the page layout, the fonts, the background colors, the borders, etc. They help establish a perception of your site before the first words are read or the first items/services considered. There are currently only nine, free themes for your website provided by Shopify. If none of these seem to work for your business, or if your needs outgrow the templates, the Shopify store has many more for purchase. Purchasing a new theme may not be a better option. In time, you will be limited to its design as well. Another choice is utilizing a development agency to build a theme, perfectly matching your business in form and function.Users can become fatigued by looking at the same product repeatedly. One of Shopify's worst features is a limitation on showing variants of a listing. For example, you might have a t-shirt available in a men's cut or shaped women's cut; in XS-XXXL; short/long sleeves, several materials, and a kaleidoscope of patterns or colors. Shopify only allows three variations per listing (but you could have 100 products named "t-shirt with clever slogan"). Your viewers will tire looking at the 2,880 combinations of the same basic shirt. Instead, excite them with the ability to find their combinations within a single listing. This filter function requires custom code but will clearly set you apart from the next retailer. Likewise, the use of filters and tags allows customers to quickly search and find the products they want. With your inventory software properly linked and your catalog filtered, users will see exactly what is available.
One critique of Shopify's themes is that they are fairly similar in page layout. In fact, most web pages are structured similarly within like categories. Page layout can set you apart and make shopping your products or services more desirable. After all, there is a reason you chose to be in business for yourself–you have a different approach, and your website should reflect that. With some custom coding, you can get a site you are pleased to look at, that delivers the results you want. Custom themes allow you to change that layout as needed, often without the help of a developer, once they've established the base for you and shown you how to manipulate the features.
"
"
Shopify's greatest strength is its ability to be customized. As your business grows, so too will your desire to refine and individualize your public face.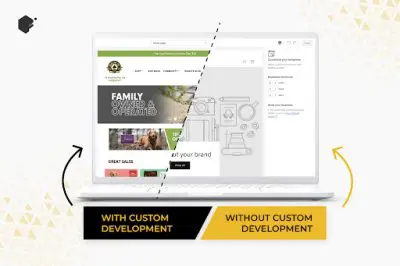 Healthy Pet homepage shown here for comparison
Fahrenheit Marketing is proud of the work we have done with Healthy Pet of Austin, Texas. Throughout this article, we pull from the work we've done on their website. Showing only a few examples that are applicable to most Shopify users, we demonstrate how subtle customizations can make ANY Shopify site stand out from its competition. But our work did not stop there. We have done many customizations such as:
Incorporating a subscription purchase-renewal program and the guidance to use it

Searchable filters to find products customers need quickly

Adding social media sharing links to a customized events calendar page

Developing a format for the client to create custom pages based by tagging and labeling product families

Creating and programming logic for custom delivery zones from the physical locations.

Designing myriad hover-states and tooltips to help customers navigate their own checkout process
Fahrenheit has worked with Healthy Pet to create some truly remarkable, custom applications that automate and unite formerly separate elements of their business.
Shopify calculates shipping and tax rates for the US and Canada, along with a variety of currencies, but not local service/delivery. During the pandemic, millions of stores maintained solvency by offering delivery. It was important to calculate accurate delivery rates. Service industries keep giant neighborhood maps posted on walls to establish service zones. ECommerce has no walls! Take advantage of smart delivery zones for your business. Using mileage, highways, or zip codes, your business knows which areas are profitable and which require an increased delivery fee. The coding requires a professional developer but can be added to Shopify.By customizing the checkout experience, your customers will feel like your site is consistent and unique throughout. Every experience can be modified with coding, from the product or service pages, home page, and all the way through to your thank you emails. You go the extra mile in your customer service. Your website should convey the same level of detail. While most of your Shopify site will follow your theme and allow you to fill content, make even your notifications and emails reflect your brand and style. These custom modifications add credibility and wow factor.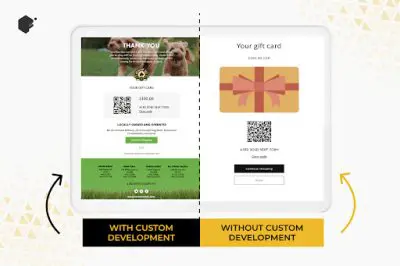 Healthy Pet Online Gift Card recipient page shown here for comparison
Nothing is hotter than video right now. In fact, Google has said that sites featuring fewer than three pieces of video content do not hold a chance of performing against sites that do. Videos do not have to be studio quality but need to be valuable to audiences. You can make them on your smartphone and use them across the web as a marketing tool.  Unfortunately, embedding video is not a feature that Shopify includes out of the box. You'll need some coding knowledge or hire a development agency. Agencies can both equip and support your site for a single task, development of the entire site, or a maintenance retainer. Retainers make sure that different apps remain updated and usable for the future. With a retained agency, you create familiarity with your site and a relationship with people who understand your growth trajectory and goals.
Keeping your customers on your page and engaged will likely turn them into buyers. Making their ENTIRE experience great–from first glance through the checkout process–will turn them into brand ambassadors, telling others about the great shopping experience.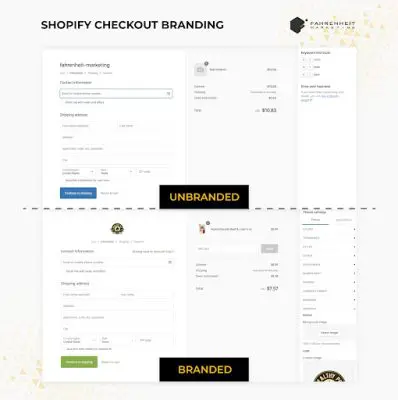 Healthy Pet Cart Checkout page shown here for comparison
The front-end capabilities that affect your customers will delight them once they've found your page, but first you have to get them there. A huge part of any online marketplace is acquiring viewers. While you can pay to have ads seen across the web, wherever your customers are, there are other ways to be seen as credible, show in search results, and leverage tools to test the different approaches you make to your site.
Google rewards sites that score highly on accessibility, which allows the greatest number of people to experience your site. European standards, known as WCAG 2.1 Compliance and A11Y standards have governed accessibility for years, but are more important than ever. Accessibility is about more than just larger letters. It means your site's colors can be distinguished from the content, images can be narrated by screen readers, and a user's browsing experience is equitable regardless of which browser and device they use.
WCAG 2.2 is slated to be finalized within 2022 and will become the new standard. Staying current with these best practices takes time and adjustment, but doing so will keep your content valid and increase your reputation with the search engines. Fahrenheit Marketing can do an assessment and make recommendations for accessibility compliance on any site. For sites we manage on an ongoing basis, we can ensure compliance even as you alter the content of your site. If accessibility is important to you (and it should be), contact Fahrenheit to discuss an audit and/or ongoing accessibility maintenance, a service we package separately from hosting, WordPress maintenance, or search engine optimization.
Search Engine Optimization (SEO) is needed for standalone websites and SaaS platforms, like Shopify. SEO is doubly important for eCommerce. On-page, SEO techniques like keywords/phrases are valuable. For eCommerce, 'product schema' which tells search engines how to organize your information about your listings is crucial.Schema are descriptors for every aspect of your product or service. They tell search engines:
your product or services' cost

how they look

the shipping details

its average rating/review

the intended audience

brand

dimensions

relevant dates

similarity to other products

…and many, many more relevant data points
Categorizing and tagging your listings utilizing a schema will help you be found by the right audiences. Establishing the right schema requires insight into your products and customers. Conveying that data requires more fields than are included in Shopify's basic listings. To be found by the search engines in this way, you need a developer to customize your Shopify store and probably the program you use for inventory as well. Service shouldn't end with set up; you'll want them to explain the fields and coach you on a reliable system for adding and updating your products. Afterall, this is an ongoing business, not a one time event.Load speeds are important to your website's function, especially on its mobile view. 
An eCommerce website or page within it that does not quickly load for users on the go, will be a site that is quickly left behind. Out of the box, Shopify guarantees fast load speeds for its desktop versions but cannot guarantee that users on mobile will have the same experience, especially with the addition of other apps. When developers optimize code, they prioritize ideal load sequences for speed. Keeping your user's experience in mind is always ideal. Site maps, like a product schema, are a way to make sure that the internet's crawlers and bots see and understand pages on your site, including which pages NOT to see. Often, you want to have pages either in development, on standby, or as a variation for testing. You do not want the internet to view those pages in the same way as the pages ready for consumption. Putting together a site map is important for eCommerce because it tells the internet the purpose of each page and categorizes where each page fits within your overall site. You want the search engines to understand that you are an expert in your field and fully understand your customers in addition to supporting the products/services you sell. You do this by having a robust website with properly identified pages. A sitemap is not a built-in feature with Shopify but takes a bit of web architecture to understand and then implement. A custom shop can do this for you.You may also want to test how certain verbiage, layouts, images, and design affect how users engage with your site (ie, are they converting). In the industry, we call this A/B testing. While Shopify allows as many pages as you'd like to create, customizing your theme to reflect the different presentations requires some coding. Likewise, you need data to determine what was successful. 
Implementing the data analytics to track the results is not an included Shopify feature but can be added by developers. You will appreciate having the guidance and expertise of people who know to set up those pages and metrics. Similarly, web developers like to know which links are being clicked both inbound and internally. Reports on which pages have engagement, the amount of time spent on the page, which elements are hovered over or focused upon longest are valuable. They help you decide what works and what needs refinement on your site. These heatmaps and click event reporting are not out-of-the-box features, nor is the guidance to understand and make educated decisions on next steps. Consult with an agency to help you understand audience behavior and then tweak your presentation.
custom apps and functions
Shopify's greatest strength is its ability to be customized. Its out of the box abilities are completely sufficient as a catalog with an order feature. As your business grows, so too will your desire to refine and individualize your public face. You have read above how many included features become better with the addition of modified code. Development agencies add additional features and advise your decisions as you make your site your own.  Imagine being able to:
Add product reviews from real customers

Add free shipping

on select items

or

certain times of day

Add upselling and cross-selling features

Add automated nudges to encourage browsers to buy

Add dropshipping

Add email and SMS notifications

Add a robust blog

Add automated abandoned cart recovery

Add a loyalty program

Add an intelligent product bundler to offer realtime deals to shoppers
Some of the strategy behind custom apps is deciding if the timing is right to invest in a new feature. A good agency will not encourage you to spend money without seeing its potential for return. Likewise, they will caution against testing numerous variables without taking the time to understand the efficacy of changes. Customizations can be done in phases; each building on top of the other. Having a plan for how these changes should roll out and be prioritized is another factor in choosing the right agency to work with.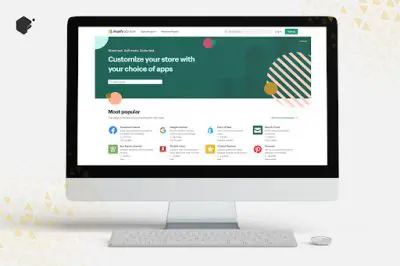 custom apps and functions
Custom applications can be used to enhance your customers' experience, the business owner's experience, and your company's marketing. Applications can be created to solve problems and reduce barriers. Some of the headaches it can reduce involve geolocation, customer reviews, and even the tedious uploading of your catalog. The sky's the limit when customizing the experience for customers and you. Following are several you had not thought to consider.Depending on the amount of traffic to your site (and the potential loss of downtime), it may make sense not to make changes directly to your "production" site. Instead, it is best to use a "staging" or sandbox site that will allow you to test functionality, design changes, and to practice in a safe environment. Here, changes can be undone without ever impacting your real, live experience. A sandbox site will need a developer to establish. They will also train you on how to commit your changes to the live site.Trained developers will keep a repository of coding elements to refer back to, stage and test their own work, and view the history of modifications. This can serve several purposes:
verifying plugin or app versions

seeing who worked with or modified code

rolling back malfunctioning changes to a previous working versions
While data loss is nearly impossible with Shopify's numerous servers, it is possible that changes made directly to the live site could cause an interruption of service. For eCommerce, functioning 24/7 is a necessity–lost time is lost revenue.One of the banes of eCommerce, particularly for those who have utilized other platforms is importing your catalog. Even modestly sized stores have thousands of SKUs to bring with them. Unfortunately, Shopify does not supply a great method of doing this. At best, a third-party app is needed as a conduit between the two sources, matching fields and keeping data. Product schema can easily be lost. A development agency that understands the intricacies can save you dozens of hours or more by developing custom code to bridge the gap seamlessly. Fahrenheit Marketing has developed several custom upload tools and will launch our own, branded Bulk Upload Tool in the Shopify store soon.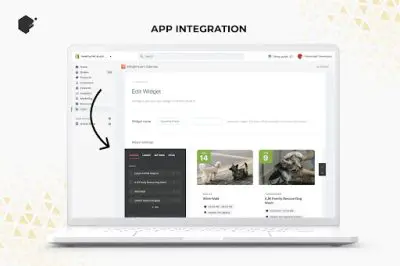 We've written much about third-party apps, plugins, and custom code. You've likely seen many themes and apps available in the Shopify store that affect your store/site. When we discuss third-party integrations, we are writing about the ability to interact with other programs altogether. Shopify can interact with just about everything, from your CRM and automated marketing tools to a variety of other applications on the web.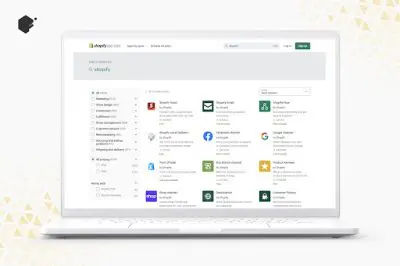 image by Shopify.com
Integrations use API or webhooks that gather data or sense activity or conditions on other sites and reflect, automatically, in realtime on your Shopify site and vice versa. Without digging into the minutiae of these two techniques, understand that they involve code linking two or more services together. This reduces the delay and error caused by manually synching accounts. They can update inventory, customer status, order fulfillment, updates to products, etc.
One benefit is the ability to integrate your Point of Sale software and inventory management with your Shopify account. With custom connections made, realtime sales are reflected in both places. Had that been the last item, your inventory program could send a message back to your Shopify store, displaying that particular item as out of stock. Employees and customers will know exactly what's available. Likewise, a change in price does not have to be updated in numerous places. With third-party integrations, your updated price reflects accurately.
Shopify integrations automate your store by pushing and pulling data from third-party APIs. Integrations can be as simple as emailing customers and posting updates to social media or complex, like arranging or calculating local delivery for your products and automating workflows with custom order tagging.
With millions of businesses using Shopify for their eCommerce solution, there is no question it is reliable and effective. Off the shelf, Shopify will process your sales, but it can be so much more. With integrations and custom development, it can seamlessly correspond with social media and marketing tools, give valuable performance insights and improve the shopping experience for your customers.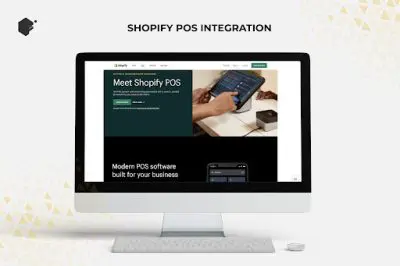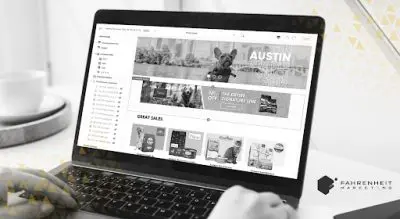 Healthy Pet homepage and Shopify admin panel shown here
Custom development is available at every stage, whether you are just starting out or engaged in eCommerce already. Working with a developer, you are likely to be presented with novel solutions to the irksome parts of selling online. While many integrations and plugins will help your business, you may have to prioritize which ones will be immediately helpful. Rather than oversell you on features and modifications you don't yet need, good developers and agencies will know the available products, the available methods, and will help you gauge which products give you the best value–and be able to substantiate that claim with data. Join the eCommerce revolution and consult with a web development agency to find out what options are best for your business and how to make Shopify work best for you. Fahrenheit Marketing is always available to dream bigger and explore options with you. We welcome the opportunity to review your current eCommerce tools and advise you not just on Shopify's abilities but what can be done on other platforms as well. While Shopify is unquestionably a leader in the eCommerce space, there are other, equally powerful tools that can be leveraged and modified to meet your needs as well.
Whether you are established and looking to add features or just starting out and wanting to develop a long-term plan for your online business, Fahrenheit can help you gain the perspective needed. Reach out for a custom app consultation and explore the possibilities.